Press release
Appointment of a new member of Parades Commission
Secretary of State announces the appointment of a new member to the Parades Commission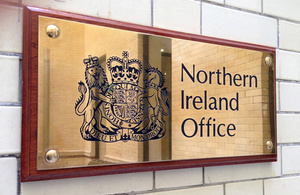 The Secretary of State for Northern Ireland, Rt Hon Theresa Villiers MP, today announced the appointment of Geraldine McGahey to the Parades Commission for Northern Ireland.
Geraldine McGahey will replace Frances McCartney who has decided to step down early to take up a full-time appointment. Mrs McGahey's appointment will take effect on 22 February 2016.
Ms Villiers said:
I am confident that Mrs McGahey will bring experience and perspective to the job and make a valuable contribution to the ongoing work of the Parades Commission.
The Parades Commission was established in 1997 and took on its full powers in 1998 through the Public Processions (NI) Act 1998. The Commission has 2 fundamental responsibilities:
To facilitate mediation between parties on disputes concerning proposed parades and take appropriate steps to resolve them.
To issue determinations in respect of particular proposed parades and protests.
Under the terms of the Act, the Secretary of State for Northern Ireland is responsible for making appointments to the Parades Commission. The appointment is made in accordance with paragraph 3(2) of Schedule 1 of the Act.
Biography of Appointee
Geraldine McGahey stood down as Chief Executive of Larne Borough Council on 1 April 2015 when the new Northern Ireland district councils were formed. During her time as Chief Executive she was SOLACE's gender champion promoting women in local government, a representative on the Good Relations Panel reporting to the Office of the First and Deputy First Ministers and an appointee of the First Minister and Deputy First Minister to the Northern Zone Steering Committee for the Social Investment Fund .
Previously, Mrs McGahey was a Building Control Surveyor in Belfast City Council (1993-2001) and Grants Officer with the Northern Ireland Housing Executive (1983-1989). She received an OBE for services to local government in the New Year Honours list for 2015.
Mrs McGahey currently holds an appointment as an Equality Commissioner for Northern Ireland and is a mentor to the Woman's Leadership Initiative.
Terms of Appointment
The position of member is part-time appointment.
Published 12 February 2016