World news story
Applying for a visa in Italy: the process
The British Embassy in Rome no longer processes visa applications for the United Kingdom. Visa applications submitted in Italy are now processed in London.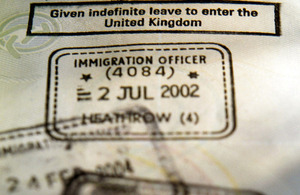 The visa application process for customers in Italy has not changed.
Visa applicants will continue to complete their application form, pay their visa fee and book an appointment on-line, then attend the UK Visas and Immigration's (UKVI) Visa Application Centre (VAC) in Rome to submit their application form, passport and supporting documents and provide their biometrics.
Applications, including all supporting documentation and the applicant's passport, are then forwarded to the UKVI Visa Section in London by commercial courier for processing. Decisions are returned to the Visa Application Centre (VAC) In Rome where they are and available for collection.
There is no additional cost to applicants and processing target times remain unchanged. There is no need for applicants to travel to London. UK Visas and Immigration aims to process 90% of non-settlement applications within 15 working days of submission at the Visa Application Centre in Rome in line with its published Customer Service Standards.
Information on how to apply for a UK visa from Italy can be found on our dedicated website www.ukba.homeoffice.gov.uk/countries/italy.
If the applicant wishes to submit a specific visa enquiry, or an enquiry on an application already made, they should consult the Enquiries in Italy page of the UK Visas and Immigration Agency in Italy. Applicants are able to track the status and whereabouts of their application on this page, using the unique tracking reference number which is given to them when they submit their application at the Visa Application Centre in Rome.
For every document provided, the applicant must include the original document and a photocopy.
This includes a copy of the passport bio-data page (the page containing the applicant's photograph). It is important that the photocopies are of good quality and can be read easily. If a photocopy of each document is not provided, the original may not be returned.
If a document is not in English or Welsh, it must be accompanied by a full translation that can be independently verified by us. Each translated document must contain the confirmation from the translator that it is an accurate translation of the original document; the date of the translation; the translator's full name and signature; and the translator's contact details.
Failure to submit translations of all supporting documents may result in the application being delayed or refused.
Published 5 December 2013