World news story
Apply for 2016 Youth Mobility Scheme Certificates of Sponsorship
Hong Kong Labour Department accepting applications for Certificates of Sponsorship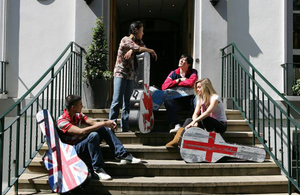 From 22 February to 4 March 2016, the Hong Kong Labour Department will be accepting applications for Certificates of Sponsorship for the Youth Mobility Scheme.
The Youth Mobility Scheme allows young people aged between 18 and 30 to live, work or study in the UK for up to 2 years.
British Consul General to Hong Kong and Macao Caroline Wilson said:
The UK/Hong Kong Working Holiday Scheme is now in its third year. The scheme offers young people from the UK and Hong Kong a unique opportunity to live overseas while gaining work experience – an important asset in today's competitive and globalised job market. We hope that this year even more young people from Hong Kong and the UK will seize the opportunity.
From 2014, up to 1,000 HKSAR passport holders can qualify for the Youth Mobility Scheme each year. HKSAR passport holders need a Certificate of Sponsorship to apply for the Youth Mobility Scheme.
For further information on eligibility and how to apply for a certificate of sponsorship please visit the Hong Kong Labour Department website. Information on the Youth Mobility Scheme can be found at here.
Further information
British National (Overseas) passport holders are already eligible to apply for a visa under the Youth Mobility Scheme to the UK and are not subject to any quota or sponsorship requirements.
Published 15 February 2016