News story
Applications sought for English catch quota trials for 2015
The Marine Management Organisation (MMO) is seeking applicants for catch quota schemes in the North Sea and Western Waters in 2015.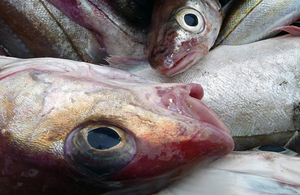 The fishing industry trials have taken place in England since 2010 and offer insight into how a ban on discarding fish may work in practice.
In 2015 the scheme will continue to investigate and provide further evidence that will inform policy and implementation of a landing obligation, particularly for demersal species. A priority will be to document and monitor total catches across a range of species likely to be phased in under a landing obligation from 2016.
Applications for the 2015 scheme
Vessel owners who expect to fish in the North Sea or Western Waters from 1 January to 31 December 2015 can apply. Only English-registered vessels that are members of a producer organisation are eligible.
Remote electronic monitoring (REM) equipment, including CCTV, will be used to monitor fishing operations and audit catch documentation. Vessels may also occasionally be required to carry MMO observers.
Participating vessels will be allocated additional quota for the relevant species agreed in negotiations at December Council and between the EU and Norway and applicants are invited to bid for additional quota for the stocks they are interested in. Additional kilowatt days will also be available for applicants operating in the North Sea. Detailed information on the stocks that may be available is contained in the application packs.
The pack also contains details of the project, contract and terms and conditions. Available stocks will be subject to the outcome of December Council negotiations but applications may be withdrawn if terms are not agreeable.
The schemes will run from the start of 2015 for the full calendar year.
About catch quota trials
The catch quota trial scheme has demonstrated the effectiveness of catch quota management at reducing discards and encouraging more selective fishing behaviour. Results published on the scheme to date have highlighted the need for greater understanding of the implications of mixed species fisheries, particularly where one or more species appears to act as a 'choke', potentially calling an early halt to a fishery through quota exhaustion before the target species quota has been caught.
Demersal landing obligation
As part of the reform of the Common Fisheries Policy demersal fish species are due to become subject to a landing obligation from 2016, where all catches will have to be landed and counted against quota. This means fishermen will no longer be able to discard to remain within quota limits and continue fishing.
Published 17 December 2014