News story
Applications invited for the position of Chief Commissioner of the Northern Ireland Human Rights Commission
The Secretary of State for Northern Ireland is seeking to recruit a Chief Commissioner of the Northern Ireland Human Rights Commission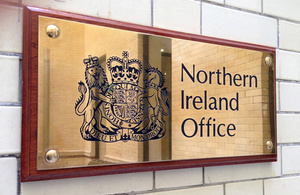 The Northern Ireland Human Rights Commission ('NIHRC') is a public body independent of Government. It operates as an executive non-departmental public body sponsored by the Northern Ireland Office.
The NIHRC was set up in 1999. Its powers and duties are to be found in the Northern Ireland Act 1998 and the Justice and Security (Northern Ireland) Act 2007. The NIHRC's job is to make sure government and other public bodies protect the human rights of everyone in Northern Ireland. They also help people understand what their human rights are and what they can do if their rights are denied or violated.
The Chief Commissioner is responsible to the Secretary of State for ensuring that the NIHRC's policies and actions are consistent with its statutory duties; and the NIHRC's affairs are conducted with probity.
Personal Specification
This is a challenging but rewarding opportunity and an outstanding individual is sought to become the Chief Commissioner: someone who can give strategic direction to the work of the NIHRC; unite and lead a team of commissioners from diverse backgrounds and forge good working relations with partner organisations across the public, private and voluntary and community sectors; and command the confidence of all sides of the community in Northern Ireland.
Candidates for the role need to be able to demonstrate the ability to chair the board of a high profile organisation and to exercise judgement across a broad spectrum of policy and high level human rights issues.
Further details of the responsibilities and skills required are contained in the appointments information pack, which should be read in conjunction with this advertisement. This information is available, on request, in other formats.
Terms of appointment
The Chief Commissioner position is for a term of up to five years.
The position attracts an annual remuneration within the range of £65,000 to £75,000 or on a pro-rata basis for less than a full-time appointment. Remuneration on appointment will normally be the minimum of the range; however, more may be available depending on current salary or for an exceptional candidate.
Appointments Process
The selection panel will be chaired by a Public Appointments Assessor and the panel will include an independent member. The Department's public appointments processes are conducted in accordance with the Commissioner for Public Appointments Code of Practice
How to apply
Those interested in applying for the post should download the application pack from the Cabinet Office's public appointments website
Application packs can also be obtained by telephoning 028 9076 5424 or email NIHRC2013@nio.x.gsi.gov.uk
THE REVISED CLOSING DATE FOR APPLICATIONS IS NOON ON FRIDAY 28 MARCH 2014.
Equality of Opportunity
Appointments will be made on merit and with regard to the equality provisions set out in Section 75 of the Northern Ireland Act 1998. We encourage applications from all sections of the community.
Published 20 March 2014