News story
Applications invited for appointment to the Parades Commission for Northern Ireland
The Secretary of State for Northern Ireland invites applications for appointment as a member to the Parades Commission for Northern Ireland.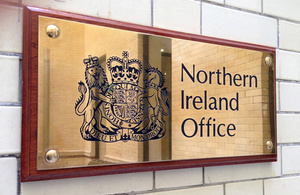 The Parades Commission for Northern Ireland ('The Commission') is a public body operating as an executive non-departmental public body accountable through the Chair to the Secretary of State for Northern Ireland.
The powers and duties of the Commission are to be found in the Public Processions (Northern Ireland) Act 1998. Further information on the Commission, its history and the guidelines under which it operates can be found on the Parades Commission for Northern Ireland website.
Personal Specification
These are demanding roles and outstanding individuals are sought to become a member of the Commission; people who can command the confidence of all sides of the community in Northern Ireland, act in controversial situations and determine courses of action, and assess the probability of future events and make clear and well informed judgements.
Terms of appointment
Any appointments arising from this competition will be for a term of up to three years. However, should alternative arrangements for managing and adjudicating sensitive parades in Northern Ireland be forthcoming this term of office may be brought to an early end.
The position of Parades Commission member attracts a fixed annual remuneration of £22k. Further details of the responsibilities and skills required are contained in the appointments information pack, which should be read in conjunction with this advertisement. This information is available, on request, in other formats.
How to apply
Those interested in applying for the post should download the application pack from the Cabinet Office's public appointments website.
Application packs can also be obtained by telephoning 028 9076 5497 or email PCNI2015@nio.x.gsi.gov.uk
Closing date for applications is Wednesday 25 February 2015.
This competition may also be used to fill other positions, should they arise.
Published 3 February 2015