World news story
Applications for the The UK Government's prestigious Chevening Scholarships opened on 3 August
These scholarships represent a significant investment from the UK Government to develop the next cohort of global leaders.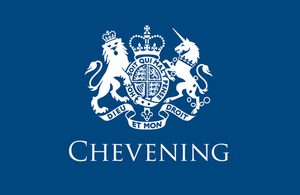 The Chevening Scholarships application window is open from 3 August to 3 November 2015 to receive applications for the academic year 2016/17, announced the Chevening Secretariat. The Secretariat is accepting applications via www.chevening.org/apply.
Chevening Scholarships are awarded to individuals with strong academic backgrounds who also have demonstrable leadership potential. The scholarship offers financial support to study for a Master's degree at any of the UK's leading universities and the opportunity to become part of an influential global network of 44,000 alumni.
There are approximately 1,500 Chevening Scholarships on offer globally for the 2016/2017 academic cycle. These scholarships represent a significant investment from the UK Government to develop the next cohort of global leaders.
The call for new applicants for 2016/17 follows the selection of 73 scholars from Pakistan who won an award to study at leading universities in the UK this year under the Scholarship programme. Pakistan holds an eminent position in the global alumni network of the Chevening Scholarships with a strong base of more than 1300 Scholars. They also work as a think-tank through the Chevening Alumni Association of Pakistan (CAAP) to assist the government and policy makers to identify ways to promote Pakistan's economic and social prosperity.
The British High Commissioner to Pakistan Mr. Philip Barton CMG OBE said:
Being a Chevening Scholar marks you out as someone with drive and ability, and also as someone who wants to contribute to the development of your country. It offers you a unique opportunity to gain academic experience and at the same time to broaden your global and social outlooks. Above all, it gives you a sense of pride and responsibility.
The Chevening Scholars have a very important role to play in building bridges between Pakistan and the UK. They learn how to be ambassadors for knowledge and for leadership. I strongly encourage emerging and established leaders from Pakistan to apply – it may be the best decision you ever make.
Mr Andy Battson, Head of Chevening Scholarships Pakistan said:
The Chevening programme provides a unique opportunity for leaders of the future to build a global network of continuing professional significance. It enables talented individuals to establish social, cultural, academic or commercial partnerships with the UK.
Not only do award recipients receive a first-rate UK education, through Chevening they join a vibrant community of Chevening Alumni, Foreign and Commonwealth Office staff, UK universities, and partner organisations. Chevening Award recipients will draw on and contribute to this community for the rest of their lives. I am delighted to announce the opening of the 2016/2017 competition for Chevening Scholarships.
ENDS
Contact: Press Attaché, British High Commission, Islamabad; Tel. +92 051 201 2000
Notes to editors
· Chevening Scholarships are the UK Government's global scholarship programme, funded by the Foreign and Commonwealth Office (FCO) and partner organisations. The scholarships support study at UK universities – mostly one year Master's degrees – for individuals with demonstrable potential to become future leaders, decision-makers, and opinion formers.
· Chevening began in 1983 and has developed into a prestigious international awards scheme. Chevening Scholars come from over 160 countries and territories worldwide (excluding the USA and the EU), and over 1,500 scholarships were awarded in 2015/2016. There are over 44,000 Chevening Alumni around the world who comprise an influential and highly regarded global network.
· The name 'Chevening' comes from Chevening House in Sevenoaks, Kent – currently the joint official residence of the UK's Foreign Secretary.
· More information – Visit www.chevening.org/faqs for detailed information on the eligibility criteria and award specifications.
Published 7 August 2015