World news story
Applications for the Chevening Scholarships are open in Bolivia
The Chevening Secretariat is accepting applications for 2017/2018 Chevening Scholarships from 8 August until 8 November 2016.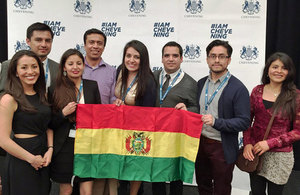 Chevening Scholarships are awarded to individuals with demonstrable leadership potential who also have strong academic backgrounds. The scholarship offers financial support to study for a master's degree at any UK university and the opportunity to become part of an influential global network of 46,000 alumni.
The call for new applicants follows the selection of 8 scholars from Bolivia, who won an award to study at a UK university this year.
The scholarships are awarded to outstanding Bolivian professionals with potential to rise to positions of leadership and influence. New applicants will need to demonstrate that they possess the personal, intellectual and interpersonal attributes reflecting this potential.
HMA to Bolivia, James Thornton, said:
The UK is home to many of the world's best universities, and Chevening enables you to develop academically, professionally, and personally whilst studying in the UK.
Those who are selected for a Chevening Scholarship become recognised as leaders belonging to a global network of influencers. They are empowered with a strong sense of pride and responsibility.
They share the best their country has to offer with those they meet in the UK, and then share the best the UK has to offer when they return home. For this reason, the role of Chevening Scholars is important in building bridges between countries.
Each award will provide full payment of academic tuition fees, including examination and thesis costs, a monthly stipend for living expenses sufficient for a single student, an allowance package and a return airfare.
Applications for the scholarships must be made on-line via www.chevening.org/apply before 8th November 2016.
There are more than 1,500 Chevening Scholarships on offer globally for the 2017/2018 academic cycle. These scholarships represent a significant investment from the UK Government to develop the next cohort of global leaders.
Published 11 August 2016