World news story
Applications for Chevening Scholarships in Bolivia are open
Chevening is the UK government's global scholarship programme funded by the Foreign and Commonwealth Office.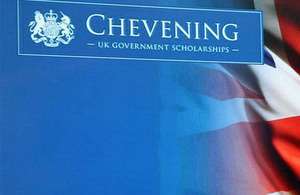 The Chevening Scholarships Programme aims to bring future leaders, decision-makers, and opinion-formers to the United Kingdom for postgraduate studies of up to 12 months at a formative stage in their careers.
We are offering one scholarship for the academic year 2014 – 2015. We will inform candidates selected for interview by February-March 2014. We are looking for candidates wishing to study in the following areas:
Good governance,
Public policy and administration,
Human Rights (e.g., women, freedom of expression, prison reform).
Climate change
GUIDELINES FOR CHEVENING SCHOLARSHIPS
Please note that some universities require course applications to be presented early in the year, so applicants who do not already have a place at a UK university for the academic year 2014-2015 should begin the application process in parallel with their scholarship application.
Candidates seeking advice on courses in the United Kingdom which might best suit their needs should visit Education UK. Please note that acceptance for a course does not in itself make a candidate eligible for a scholarship.
The scholarships are for a maximum of twelve months and are mainly, but not exclusively, designed to support the pursuit of a master's degree or a postgraduate diploma. No short courses are considered.
Online Chevening application forms will be open for 2014/15 applications as from 1 September 2013. Closing date for applications is 15 November 2013. Interviews will be conducted in February-March 2014 and we will select a candidate by May 2014. No extensions will be allowed.
REQUIREMENTS
Be able to show their potential and plans to become one of Bolivia's future leaders, opinion formers or decision makers
Must have at least one qualification at degree level or equivalent
In order to receive a Chevening Scholarship, all candidates must demonstrate that they have fulfilled the Chevening English language requirement by 23 June 2014 at the very latest. We advise all applicants to ensure they have fulfilled the English language requirement as early as possible.
You can fulfil the Chevening English language requirement by taking an English language test and achieving the scores specified below or by claiming an exemption based on the UKBA exemption lists. You should take an English language test as early as possible, and well in advance of the deadline. No pre-sessionals are allowed in any instance (this applies to self-funded pre-sessionals too) for Chevening candidates.
English language tests
You are free to take tests more than once in order to meet the Chevening English language requirement. Please note that Chevening does not pay for costs associated with English language, and you are responsible for booking and paying for costs associated with these tests. The English language test must be taken on or after 1 October 2012. The minimum requirement to be awarded a Chevening Scholarship is:
Academic IELTS :Overall score - 6.5, with a minimum score in each component of: Listening - 5.5; Reading - 5.5, Speaking - 5.5, Writing - 5.5
Pearson PTE Academic: Overall score - 58, with a minimum score in each component of: Listening - 42, Reading - 42, Speaking - 42, Writing – 42
TOEFL iBT Overall score - 79, with a minimum score in each component of: Listening - 17, Reading - 18, Speaking - 20, Writing – 17
Must meet the academic and English language requirements for their chosen course of study

Be a Bolivian national currently living in Bolivia and who intends to return to Bolivia after completing their studies in the UK

Must have at least two years' work or equivalent experience by September 2013.

Seek the support of their employer, if possible.
APPLICATION PROCEDURE
Application must be made online, via e-Chevening. We cannot accept applications made by any other means. Before you start your electronic application, please read the following notes:
You need Internet Explorer version 5.5 or later to complete your application.
Please complete the e-Chevening application form in English.
It is the applicant's responsibility to ensure their application is submitted on time.
We will inform candidates selected for interview by the second week of January 2014. We regret we will not be able to inform other candidates of the outcome of their applications.
SELECTED CANDIDATES
Candidates selected for interview will be required to send the following supporting documents by the second week of January 2014:
Officially translated academic qualifications since completing university education;
Original copy of English Language Proficiency Certificate
Original letters of reference from your two designated referees; at least one of whom should be academic.
One page A4 with general information on the proposed or alternative course of study downloaded from the University's website;
Two recent passport size colour photographs both in printed and electronic format.
Please note that although items 3 and 4 are not listed on the application form, it is still a requirement that they are submitted.
For further information and online applications visit chevening.org/bolivia
Published 12 September 2013
Last updated 8 November 2013
+ show all updates
Updated information on English Language Test
Added translation