World news story
Applications for 2015/16 Chevening Scholarships are now open in Taiwan
Are you a future leader looking to study in the UK? Applications for 2015/16 Chevening Scholarships are now open in Taiwan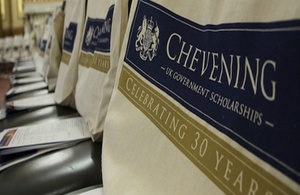 Applications for 2015/16 Chevening Scholarships, the prestigious global scholarship programme of the UK government, are now open. The Scholarships, which are funded by the UK Foreign and Commonwealth Office (FCO) and partner organisations, operate in 118 countries worldwide, and this year will support over 600 established or emerging leaders. Awards are for a one-year Master's degree, in any subject and at any of the UK's leading universities.
The Scholarships aim to support UK foreign policy priorities by creating lasting positive relationships with future leaders, influencers and decision-makers around the world.
Chris Wood, Director of the British Trade & Cultural Office, Taipei, said: 'The Chevening programme provides a unique opportunity for leaders of the future to build a global network of continuing professional significance. It enables talented individuals to establish social, cultural, academic or commercial partnerships with the UK. With 2014 marking the 30th anniversary of the programme, I hope that this year's Chevening Scholarships will continue to attract the very brightest and best.'
Taiwanese Chevening alumni have an excellent record of rising to positions of leadership across a wide range of fields, including government officials, politics, business, the media, civil society and academia. Some alumni have reached a senior position at several government departments such as the head of Chunghwa Post, Taiwan's representative to Ecuador and the director of International Education Department in the Ministry of Education. Many Taiwanese judges and prosecutors also received this scholarship to study in the UK. Some alumni have also reached a senior position from the work as politicians, leading journalists, policy advisers to NGOs and think tanks.
Applications for Chevening Scholarships must be submitted online at Chevening website. Applicants should read the online guidance and be able to demonstrate how they meet the Chevening selection criteria before submitting an application. Further details are available at Chevening Taiwan page. The deadline for applications is 15 November 2014.
About Chevening Scholarships
Chevening Scholarships are the UK government's global scholarship programme, funded by the Foreign and Commonwealth Office (FCO) and partner organisations. This year we are celebrating the 30th anniversary of the Chevening programme, which was established in 1983 and has developed into a prestigious international scheme. Scholars come from 118 countries and territories worldwide and over 600 Scholarships will be awarded this year. There are over 42,000 Chevening alumni around the world who together comprise an influential and highly regarded global network.
Taiwan's Partners
Professor Winston Wong
Since 2013, the British Trade and Cultural Office, Taipei (BTCO) is pleased to collaborate with Professor Winston Wong to offer two scholarships for students who plan to study in the UK for a master degree in any subject. To apply for a Chevening/Winston Wong Scholarship, please apply online using the standard Chevening application form.
Delta Electronics Foundation
Since 2008, with the continued support and cooperation of the Delta Electronics Foundation, the British Trade & Cultural Office, Taipei (BTCO) is pleased to have been able to offer two joint scholarships. Applicants can chose any course but must be able to demonstrate their determination to use the skills they acquire (e.g. journalism, science etc.) to work for environmental protection. To apply for a Chevening/Delta Environmental Scholarship, please apply online using the standard Chevening application form. In the Study Proposal section you must state clearly that you are a 'Chevening/Delta Applicant' and provide an outline (no more than 250 words) of how you propose to use your studies in the UK to contribute to environmental work in Taiwan upon your return.
Eligibility for 2015/16 Chevening Scholarships
Applicants for 2015/16 Chevening Scholarships must: * be a citizen of Taiwan, and intend to return there at the end of the period of study; * hold a degree that is equivalent to at least an upper second-class honours degree in the UK (in Taiwan we usually expect grades of over 75%); * achieve the minimum Chevening English language requirement (minimum IELTS level 6.5); * have completed at least two years' work or equivalent experience before applying for a Chevening Scholarship;
Further Information
Successful applicants will enjoy a scholarship covering course fees (up to a maximum of £12,000) and assistance from the Chevening Secretariat in the UK. Successful applicants are required to fund any additional tuition fees, travelling and accommodation costs.
The interview will be held at the end of February 2015 in the BTCO in Taipei. No telephone interviews are allowed.
Published 1 August 2014