World news story
Applications for 2014/15 Chevening Scholarships in Hong Kong
Applications for 2014/15 Chevening Scholarships, the prestigious global scholarship programme of the UK government, are now open.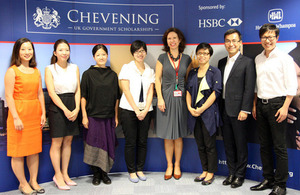 The Scholarships, which are funded by the UK Foreign and Commonwealth Office and partner organisations, operate in 118 countries worldwide, and this year will support over 600 established or emerging leaders. Awards are typically for a one-year Master's degree, in any subject and at any of the UK's leading universities.
The Scholarships aim to support UK foreign policy priorities by creating lasting positive relationships with future leaders, influencers and decision-makers around the world.
Caroline Wilson, British Consul General to Hong Kong & Macao said:
The Chevening programme provides a unique opportunity for leaders of the future to build a global network of continuing professional significance. It enables talented individuals to establish social, cultural, academic or commercial partnerships with the UK. With 2013 marking the 30th anniversary of the programme, we hope that this year's Chevening Scholarships will continue to attract the very brightest and best.

Since 1996 over 580 scholars from Hong Kong & Macao have taken up the opportunity to study at some of the UK's leading institutions including Oxford, Cambridge and the London School of Economics and Political Science. I hope that this year will see an even wider number of applicants applying for places on this prestigious programme.
Chevening Scholarships in Hong Kong
Scholars are personally selected by British Embassies, High Commissions and Consulates throughout the world, sometimes in partnership with sponsoring organisations.
Chevening alumni have an excellent record of rising to positions of leadership across a wide range of fields: including politics, business, the media, civil society, religion, and academia. Some work as MPs, leading journalists, or policy advisers to NGOs and think tanks; others occupy senior positions in commercial organisations.
Applications for Chevening Scholarships must be submitted online at the Chevening website. Applicants should read the online guidance and demonstrate how they meet the Chevening selection criteria before submitting an application. Further details of closing dates and priority subject areas (which vary from country to country) are available on the country pages of the Chevening website.
About Chevening Scholarships
Chevening Scholarships are the UK government's global scholarship programme, funded by the Foreign and Commonwealth Office and partner organisations. 2013 is the 30th anniversary of the Chevening programme, which was established in 1983 and has developed into a prestigious international scheme. Scholars come from 118 countries worldwide and over 600 Scholarships will be awarded this year. There are over 42,000 Chevening alumni around the world who together comprise an influential and highly regarded global network. For further information and to apply for a Chevening Scholarship please see the Chevening website.
Eligibility for 2014/15 Chevening Scholarships
Applicants for 2014/15 Chevening Scholarships must:
demonstrate that they have achieved a minimum English language requirement

be a citizen of Hong Kong or Macao and intend to return there at the end of the period of study. Applicants should hold an HKSAR, British National (Overseas) or Macao SAR passport

hold a degree that is equivalent to at least a an upper second-class honours degree in the UK, and

have completed at least two years' work or equivalent experience before they apply for a Chevening Scholarship
Published 2 September 2013
Last updated 23 September 2013
+ show all updates
Embedded new Youtube video "Chevening Scholarships in Hong Kong"
First published.