World news story
Applications are open for the UK Government's prestigious Chevening Scholarships
The call for new applicants follows the selection of around 10 scholars from Bolivia, who won awards to study at British universities this year.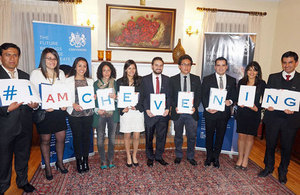 Chevening Scholarships are the UK's global scholarship programme, funded by the Foreign and Commonwealth Office (FCO) and partner organisations.
Chevening scholarships are awarded to individuals with strong academic background who also have demonstrable leadership potential. The scholarship offers financial support to study for a Master's degree at any of the UK's leading universities and the opportunity to become part of an influential global network of 44,000 alumni.
The Chevening Secretariat is accepting applications for 2016/2017 Chevening Scholarships via www.chevening.org/apply from 3 August until 3 November 2015.
There are approximately 1,500 Chevening Scholarships on offer globally for the 2016/17 academic cycle. These scholarships represent a significant investment from the UK Government to develop the next cohort of global leaders.
The Chevening programme is a great opportunity for future leaders in Bolivia to study at a British university, benefiting from a world-class education. It is also an opportunity to join a prestigious, influencial global network of leaders and policy makers around the world.
Areas of study
Applicants should link the chosen Master courses to one of the priority study areas for Bolivia, which are detailed in the country's information page for Chevening scholarships www.chevening.org/bolivia
English language test
Many British universities in the UK require the IELTS exam to enter the university. As there is no IELTS centre in Bolivia to take the exam, applicants can submit TOEFL or other exam to demonstrate their level of English language.
Published 8 September 2015