News story
Appetite for growth
Estimated £1.5 million in business secured by 7 British companies on food and drink mission to Thailand and Singapore.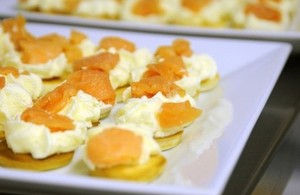 UK Trade & Investment (UKTI) recently took small and medium-sized enterprises (SMEs) from the London and South East regions on a market visit to South East Asia.
The aim was to meet large industry buyers and experts from the region including Tesco-Lotus and Siam Makro. The food and drink industry is the UK's largest manufacturing sector and there is a growing need to keep the industry competitive in the global market.
The Asia-Pacific is still the fastest growing region in the world (pacing at an annual rate of 8.5 per cent GDP), and so it has never been more important for British firms to capture the opportunities for growth.
In an interview last year with the British Ambassador to Thailand, HMA Mark Kent, emphasised that companies could not afford to ignore this region. He said:
if you are a British company you should have Asia in your future corporate strategy
The Market Visit to Thailand and Singapore in November included:
an intense week of visits to retail outlets to learn about the market potential

pre-arranged meetings with regional distributors, buyers and experts
This gave the firms opportunities to pitch their products, which may have otherwise taken many years to access on their own.
Successful meetings
Premium confectionary brand, Cocoda, from Cambridge successfully landed 7 meetings with Thai buyers in one afternoon. Managing Director, David Hill, commented on the benefits of attending the market visit:
It will open up both the Thailand and Singapore markets and perhaps beyond, into the greater ASEAN region. A highly positive visit, great contacts, great itinerary and superb UKTI support.
Another company, EJE Capital, is already awaiting the sign-off of its first shipment to Singapore. The family owned business that manufactures a variety of cooking oils is also expecting to secure over £83,000 in business wins over the next 12 months in Singapore alone.
Emilio Santías, General Manager said:
For us this market visit to Thailand and Singapore was a great success! Now we have to cash the time we spent in Asia. The contacts and market information we gained from each country were really important…the methodology of meeting people in the same place one by one is a very convenient way of doing business.
UKTI assistance
Adrian Walsh, Senior International Trade Adviser for the London Consumer sector led the visit. He stressed the breadth of support and assistance offered by UKTI before, during and after the mission. This was a key element to accelerate market-entry for the companies.
Adrian said:
The success of our Market Visit was due to a great team effort. We had fantastic collective support from our colleagues in Thailand and Singapore, as well as teams in London. This is why the UKTI network offers great value to SMEs in introducing them industry contacts across the world.

It is evident that British brands live up to the premium and high-quality expectations of those in the South East Asian market.
Top tips
Here are some top tips from HMA Mark Kent on exporting to the region:
create a relationship with potential partners. Having trust and confidence in a partner can go far, particularly where many business deals are done on the basis of relationships

business etiquette is to show appreciation to your business contacts through appropriate hospitality. This must be however in line with UK legislation

you will need to have a continued visible presence in the market to build your brand in order for it to amount to long term results"
Contacts
Information about the range of support services from UKTI is available on the UKTI website. If you are looking to develop your business overseas contact UKTI's regional trade teams for assistance:
Published 27 January 2014