World news story
Appeal launched for UK fugitives hiding in the Netherlands
The NCA, Crimestoppers and the Dutch authorities launch an appeal for 8 suspected or convicted criminals believed to be in the Netherlands.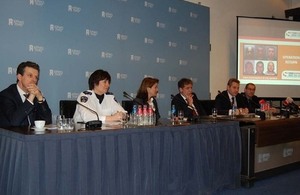 British Ambassador Sir Geoffrey Adams was at the launch of Operation Return 3 in The Hague in February.
Operation Return is a multi-agency campaign involving the National Crime Agency (NCA), Crimestoppers UK, Bel M (Dutch Crimestoppers) and Netherlands law enforcement. It aims to engage the media and the public to help locate fugitives wanted for serious crimes committed in the UK but believed to be hiding in the Netherlands.
Hank Cole, Head of International Operations for the National Crime Agency, said: "The NCA and its partners continue to pursue fugitives relentlessly. Many believe they can use the Netherlands as a base to continue their illegal activities, which still have an impact on the UK, but they are finding out that it is not a safe haven.
"The exceptional level of collaboration and intelligence sharing with the Dutch authorities has resulted in many of our most wanted being captured. Last year alone, 20 fugitives linked to Return and other operations were captured in the Netherlands and brought back to the UK to face justice.
"However, the most important thing is the support of the public. Be our eyes and ears and let us know if you have any information, no matter how small or trivial, on the whereabouts of our targets."
.
Published 13 February 2014