Apache pilot honoured for bravery in Afghanistan
An Army officer is to receive the Air Force Cross for his 'selflessness and extraordinary professionalism' in piloting his Apache helicopter in dangerous situations to assist casualty rescue missions in Afghanistan.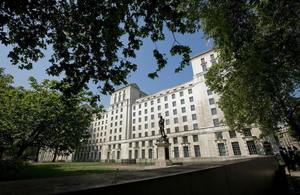 Captain Steven Jones, aged 32, an Apache pilot with the Army Air Corps, was flying his helicopter back to base after a day providing protective air cover for ground troops in Afghanistan in December 2010 when he heard a radio call for assistance.
An infantry patrol had been caught in an IED blast, which had killed one soldier and seriously wounded several others. The explosion's blast had also disabled the soldiers' radios - except the one that communicates with aircraft.
Only helicopters in the air on the right frequency would have been able to hear the soldiers' transmissions. To be of assistance to the wounded soldiers, Captain Jones needed to keep his Apache in the air and relay their messages for urgent help.
Captain Jones' helicopter was dangerously low on fuel - the reason why he was returning to base. But, he said, the decision was an easy one to make:
You can never leave a man behind. Yes, we were low on fuel, but that doesn't matter where there are lives at risk. On a balance of risk I worked out that we could try and get away with staying in the air for as long as we could.
You would never normally do it - there are manageable levels set for a reason or you risk the engine stopping for example - but I couldn't not respond.
Captain Jones, on his third deployment to Afghanistan, kept the Apache in the air, and was thus able to keep in touch with the soldiers on the ground until an emergency response helicopter could reach the injured personnel and another helicopter could be raised to take over his watch.
When he eventually landed his helicopter, the fuel gauge was registering the lowest the Apache craft had ever run on, dangerously below the safe levels for flight.
Captain Jones' citation reads:
This single act enabled a swift response to a situation that would otherwise have been delayed, demonstrating his selfless dedication to the support of ground forces.
This was not the only incident when Captain Jones literally flew to the aid of wounded soldiers. Two weeks previously he had been called to assist in a daring night casualty evacuation of a critically wounded soldier.
Low visibility on a dusty December night in Afghanistan meant the casualty evacuation Chinook helicopter was unable to navigate its own path to the soldier, requiring the Apache's superior sensors to escort them both safely through the mission.
Neither helicopter pilot could see where they were flying, but Captain Jones, using his helicopter's radars and infra-red sensors, was able to map a path for both helicopters to safely navigate the terrain.
Captain Jones guided the Chinook to within 50ft (15m) of the landing site, with his citation noting that:
Jones very rarely operates the Apache helicopter into such an immediate, ultra low level environment, least of all at night in zero ambient illumination.
Without his shepherding of the Chinook through atrocious weather conditions … the casualty would not have been recovered and would have lost his sight.
Captain Jones, who flew a further 20 missions that month, said:
You don't think about it at the time. It's not that it isn't significant because everything is significant out there because everything impacts on someone else's life, but you have to put it in your backpack and move on to the next day.
The Apache goes out on every casualty mission to make sure the Chinook can get in and out safely, and we frequently go out above ground patrols providing eyes from above for them.
The Apache is an amazing force multiplier - it is a huge deterrent to enemy attacks on ground troops, and we are able to offer rapid reactions to anything that does happen. Our purpose is to save lives.
Captain Jones is one of only two military personnel to receive the Air Force Cross in the latest Operational Honours and Awards List, which includes 140 personnel. The awards are for actions during the period 1 October 2010 to March 31 2011 in the UK and overseas.
Published 6 October 2011