Apache crews display their skills at Suffolk Show
The Apache attack helicopter has dazzled the crowds at the Suffolk Show this week with the Army helicopters based at Wattisham Flying Station giving an exhilarating display of their flying and fighting capabilities.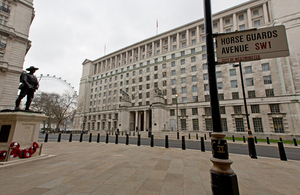 One Apache simulated a combat mission by swooping into the sky after refuelling and rearming as fake insurgents launched an attack on the crews working on the ground below.
Amid a heavy exchange of gunfire the Apache wheeled round and engaged the enemy with its 30mm cannon and a Hellfire missile, decisively winning the engagement.
The display started with ground crew from 654 Squadron, 4 Regiment Army Air Corps, abseiling 150ft (46m) from a hovering Lynx helicopter to set up a forward arming and refuelling point - the military equivalent of a Formula 1 pit-stop.
Then, talked in from the ground, one of the squadron's Apaches landed to quickly take on extra fuel and weapons before being called on to use them to protect colleagues below.
After the display, the crews were presented to Her Royal Highness The Princess Royal, who was visiting the show.
Elsewhere on the showground, a static Apache was on display with soldiers who have flown and maintained it in Afghanistan talking to the public about their experiences.
Wattisham Station Commander, Colonel Neale Moss, said:
The Suffolk Show is an important chance for Wattisham to engage with local people, who give us fantastic support. We can show the public a little bit of the fantastic kit we have and what we can do with it.

Importantly, we are also able to give something back to the farming community, who put up with us noisily flying over their land night and day.
The Suffolk Agricultural Association, which organises the event, donated 350 family tickets to military families based in Essex and Suffolk.
Ministers agreed in principle last week to make UK Apache attack helicopters available to NATO as part of Operation UNIFIED PROTECTOR, which aims to protect civilians in Libya under threat of attack.
Apache, the British Army's attack helicopter, is flown on operations by the Army Air Corps' 3 and 4 Regiments, based at Wattisham in Suffolk. The helicopter last week clocked up a landmark 100,000 flying hours, a third of which have been flown on operations in Afghanistan.