Press release
Antonov-124 doubles the capacity of Cebu airport
The Antonov-124 was chartered by the Department for International Development (DFID) to help double the capacity of the airport.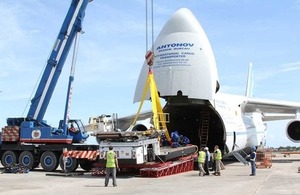 Vital aircraft unloading kit to double the amount of aid that can flow through the Philippines' Cebu airport, now the country's aid hub following Typhoon Haiyan, has landed in the country, International Development Secretary Justine Greening announced today.
The Antonov-124, the world's third heaviest aircraft and capable of carrying 110 metric tonnes of cargo, was chartered by the Department for International Development (DFID) to help double the capacity of the airport. Cebu is now at the heart of the global humanitarian response to the Philippines crisis, handling over 800 metric tonnes of cargo per day.
The kit on board, funded by the UK, included a main deck loader which can be used to unload heavy equipment and aircraft pallets from large aircraft, as well as forklifts, a tow tractor, a 4x4, pallets, oil and tools.
Justine Greening said:
The British public has shown incredible generosity in the wake of the devastating Typhoon Haiyan and has now given £50m to the DEC emergency appeal.

UK kit and personnel are working to help Cebu airport process the supplies of shelter, water and food now flowing into the country. The arrival of our Antonov-124, with a loading deck and other vital equipment on board, will keep the supplies moving to where they are needed and help get the Philippines back on its feet.
The UK is providing urgent humanitarian support for up to 800,000 people in the Philippines in the wake of Typhoon Haiyan.
Thousands of people in remote communities have lost their homes and everything they own. They are in the open and completely exposed to the elements.
The UK will provide over £50 million in humanitarian support to help aid get through to hard-to-reach areas.
UK support includes:
the redeployment of HMS Daring and HMS Illustrious to the Philippines to join the aid effort;
flights delivering 4x4s, forklift trucks, water purification kits and cutting equipment to flood hit areas;
the deployment of a team of 12 NHS staff trained to operate under emergency conditions;
providing temporary shelters, bedding, blankets and solar lanterns to people through the Rapid Response Facility; and
£30 million to support the UN and Red Cross emergency appeals for the Philippines.
General media queries
Follow the DFID Media office on Twitter - @DFID_Press
Notes to editors
For photographs of the Antonov-124, please contact the DFID press office on 020 7023 0600.
The latest updates on DFID's response to Typhoon Haiyan are available on DFID's website: www.gov.uk/government/news/typhoon-haiyan-latest-updates-on-uk-aid
Published 20 November 2013