Press release
Anonymous electoral registration to be extended to Northern Ireland
The NIO is consulting on draft legislation which would enable vulnerable voters to withhold their names and addresses from the electoral roll.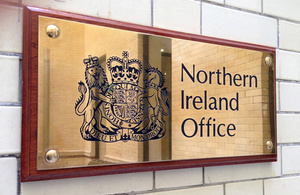 The Minister of State for Northern Ireland, Mike Penning MP today published draft legislation which would introduce anonymous electoral registration in Northern Ireland.
The new law would enable vulnerable individuals to vote without the risk of being traced via the full electoral register. This would address concerns from those whose personal safety may be compromised if their details were publicly accessible.
Anonymous registration was successfully introduced in Great Britain in 2007 but was not extended to Northern Ireland at that time because a number of differences in electoral law needed to be taken into account.
Mike Penning said:
I believe that vulnerable people in Northern Ireland should receive the same protection as those in Great Britain. But it's important that this protection is balanced against the need to ensure transparency in the electoral process and retain protection against electoral fraud.
The draft legislation I am publishing today would extend anonymous registration to Northern Ireland. It makes minor changes to some aspects of the electoral process here to ensure the identities of individuals particularly at risk are protected at all stages of the voting process.
I encourage all those with an interest to comment on the draft legislation.
The proposed legislation is consistent with the system in Great Britain in most areas, although a small number of differences would apply in Northern Ireland, namely:
The legislation would permit eligible applicants to register to vote anonymously for five years, rather than one year as in Great Britain.
Anonymous individuals would be required to vote by post because the use of identity checks at polling stations in Northern Ireland means that a ballot paper cannot be obtained without photographic identification.
The government expects the new legislation to come into force in June 2014. It would apply to elections to the UK parliament, Northern Ireland Assembly, European Parliament and local councils.
The Government is inviting comments on the proposed legislation. Responses are requested by 23 October.
Notes to editors:
The draft legislation and consultation document are available here
Currently the full electoral register in Northern Ireland lists the name and address of everyone entitled to vote. The full register is mainly used for elections and referendums, but other purposes include the prevention and detection of crime, eligibility for jury service and identity checks for credit applications. The full register may also be seen under supervision by any member of the public.
The edited version of the register omits the names and addresses of people who have asked for these details to be excluded. The edited register can be bought by any individual or organisation and used for any purpose.
The government recognises that simply withholding information from the edited electoral register may not provide a sufficient safeguard for vulnerable individuals. Therefore the draft legislation for anonymous registration would ensure that the personal details of at-risk individuals do not appear on the full register either.
To qualify for anonymous registration, applicants must hold a court order such as an injunction, or be able to provide a letter from the police or social services stating they are at risk.
The government anticipates around 2,000-2,500 individuals would be eligible for anonymous registration in Northern Ireland.
Published 11 September 2013