News story
Appointment to the Sentencing Council
The Lord Chancellor, in consultation with the Lord Chief Justice, has appointed Rosina Cottage QC to the Sentencing Council for 3 years from 18 July 2016.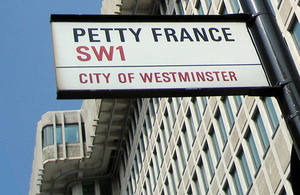 The Sentencing Council for England and Wales was set up in 2009 to promote greater transparency and consistency in sentencing whilst maintaining the independence of the judiciary. The Council produces guidelines on sentencing for the judiciary and aims to increase public understanding of sentencing.
Rosina Cottage QC has been a barrister since 1988 and started her career as a Tenant at Chambers of Max Hill QC Red Lion Chambers. She later became a Bar Representative of the Council of the Inns of Court Disciplinary Tribunal. She was appointed Queen's Counsel in 2011 and appointed Crown Court Recorder in 2012.
Michael Caplan QC's tenure has also been extended for 2 months from 6 April 2016. Michael Caplan QC is a partner at Kingsley Napley.
Rosina's appointment is subject to security clearance.
Published 26 May 2016