World news story
Anniversary of HALO Trust marked in Kosovo
This was published under the 2010 to 2015 Conservative and Liberal Democrat coalition government
HALO Trust celebrated its 25th Anniversary at The National Museum of Kosovo.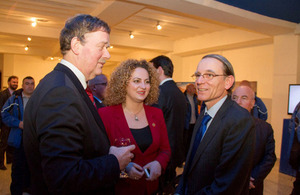 HALO Trust is a well respected British-registered Non-Governmental Organisation (NGO), which is a non-political and non-religious. It specialises in the removal of the hazardous debris of war. HALO began mine clearance operations in Afghanistan in 1988 and currently works in 14 countries around the world.
HALO has been working in Kosovo on and off since 1999 carrying out many mine and cluster munitions clearances. It has returned several thousand hectares of land to safe, productive use as well as removing any further threat of munitions to the population of Kosovo. The vast majority of all clearance operations in Kosovo were carried out by local staff, as the Trust stresses the importance of employing national staff as one of their key principles. Today, 65 Kosovans are employed and since 2008, 27 minefields and cluster munitions strikes have been cleared. Currently the Swiss and Belgium Governments are funding HALO's efforts in Kosovo.
HALO's 25th Anniversary message was a simple one; the need to increase the number of de-miners in order to clear mine-impacted countries in a shorter timeframe.
Since 2010 the Kosovo Mine Co-ordination Centre of the Ministry of the Kosovo Security Force (KSF) co-ordinates all the de-mining activities in Kosovo, including the ones conducted by the HALO Trust.
At the event, KSF Minister Agim Ceku gave a speech highlighting the important work the HALO Trust have carried out in Kosovo over the last decade or so. He spoke about the need to avoid the risk from mines and unexploded ordnance is a pre-condition for developing Kosovo and its natural and economic resources. Minister Ceku concluded the evening by presenting a letter of appreciation to the HALO Trust on behalf of the Ministry of the KSF.
H.E. Ian Cliff, British Ambassador to Kosovo also said:
"I welcome HALO Trust's outstanding contribution to safety and development in Kosovo through mine clearance and its excellent co-operation with the KSF in this regard".
Document information
Published: 11 February 2014