Press release
Anna Soubry in Croston, Lancashire to meet business owners recovering from the floods
Small Business Minister Anna Soubry visits Croston in Lancashire to speak with local business owners affected by flooding.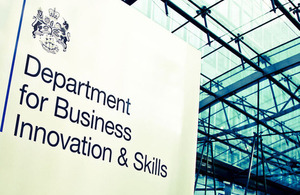 Today (4 January 2016) Small Business Minister Anna Soubry visited Croston in Lancashire to speak with local business owners affected by flooding from Storm Eva. Last week the minister announced that up to £6 million is available to provide immediate support to businesses following the Boxing Day deluge.
The Department for Business has provided the business recovery support package to help businesses affected by the flooding, which resulted from record rainfall during the recent storm.
This adds to the £5 million already announced by the government to help businesses in Lancashire and Cumbria affected by Storm Desmond earlier in December 2015.
Small Business Minister Anna Soubry said:
I came to Croston today to see for myself the challenges faced by business owners in the wake of the recent flooding and to listen to their concerns about a number of issues, from flood defences to the availability of insurance cover.

It's been a devastating Christmas for many of them and it's vital for small firms in particular to start trading again as soon as possible. The £6 million package is there to help them get back on their feet and it was great to see those that have already done so.
Anna Soubry visited businesses including Fresco Fresco, an Italian restaurant that is back up and running following flood damage, and The Wheatsheaf pub which is in the process of making repairs. The minister also visited Croston Sports Club, which was the nerve-centre of flood operations and provided makeshift accommodation for families who could not return home due to the floodwaters.
The £6 million provided by the Department for Business forms part of a wider £50 million relief package announced by Communities Secretary Greg Clark, available immediately to support households and businesses.
Notes to editors:
Businesses should contact Local Growth Hubs for more information on accessing the business support.
Cumbria
Growth Hub contacts for Cumbria: Telephone: 0844 257 8450 or email info@cumbriagrowthhub.co.uk
Greater Manchester
Growth Hub contacts for Greater Manchester: Telephone: 0161 359 3050 or email info@businessgrowthhub.com
Lancashire
Growth Hub contacts for Lancashire: Telephone: 0800 488 0057 or visit www.boostbusinesslancashire.co.uk
Leeds City Region
Growth Hub contacts for Leeds City Region: Telephone: 0113 348 1818 or email businessgrowth@the-lep.com
North East
Growth Hub for the North East including Northumberland: Visit http://negrowthhub.co.uk
York, North Yorkshire and East Riding
Growth Hub contacts for York, North Yorkshire and East Riding: Telephone: 0300 456 3565 or email enquiries@businessinspiredgrowth.com
Published 4 January 2016