World news story
Angola: Taking the Most Out of a Chevening Scholarship Experience
This was published under the 2010 to 2015 Conservative and Liberal Democrat coalition government
By Fernandes Wanda, 2012-13 Chevening Scholar, Angola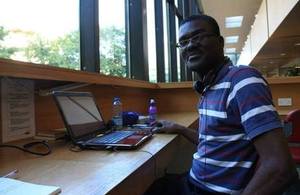 Looking back in time, it's really amazing to remember all that I had to go through to become a Chevening Scholar, that is, an Alumnus of the Foreign and Commonwealth Office's (FCO) Chevening Scholarship programme.
My experiences of the Chevening application process…
Coming from Angola, a country in which English is taught in schools as a foreign language, my first challenge was the application process itself. I had in mind what I wanted to focus on but that was not enough, I really had to make sure it was nicely captured by my application statement of purpose. My first accomplishment was to be shortlisted for the Chevening interview and my aim was to positively impress the panel. Afterwards, I had to face the English language test and meet the English requirement to study in a UK university.
Finding the right UK University…
An important part of the Chevening application process is for all applicants to directly apply to a UK university of our choice and secure an admission with them in order to be finally granted the Chevening Scholarship. This by itself was a challenge and fortunately I received positive feedback from some of the institutions to which I applied. I decided to undertake a Master's in Development Studies at the School of Oriental and African Studies (SOAS), due to their focus on developing regions of the world, which includes the sub-Saharan Africa.
Studying in the UK – driven by my desire to change my future…
Once this phase was over I was finally awarded the Chevening Scholarship and I could prepare for my departure to the UK. This meant that it was now time to leave behind all that I had professionally achieved in my career and the realisation that there may not be option to continue with them when I returned home to Angola. To my friends and family, I had what they would see as a successful life namely a job, a house and a car and some even told me that I was being over ambitious! What they did not understand at the time was that my decision to go to the UK as a Chevening Scholar was primarily driven by my desire to change career (from Operations Management to Development Studies), I felt that at a personal level I was heading in the right direction however outside my little world things remained not only unchanged but also unchallenged.
On one hand one could see that Luanda (the capital city of Angola) had turned into a huge construction site which signalled "progress" and was presented as evidence of the new development phase of Angola. Local newspapers reported very high GDP growth year after year (especially before the 2008 economic crisis). But on the other hand, driving around the city was still chaotic and life for the ordinary person was still very hard. People lacked access to basic health care, education, clean water, sanitation and electricity. Undertaking a postgraduate course in Development Studies would allow me to really understand what was at stake.
Life in London…..
My Chevening life in London was an amazing experience. I decided right from the beginning that I would take the most out of my Chevening year. I took every single opportunity I had to meet new people and network. At SOAS, I enriched my student life experience through participation in different student's societies (the Development Economics Society, the First Aid Society, the Casual Basketball and Salsa Society). I chose to live on campus and it was interesting to meet different people, live together and create our own little community. Through our social activities we learnt to share our different cultures (i.e. food and music) and to appreciate our differences which helped us go through our London experience with confidence and face our academic programme at SOAS with a positive attitude.
Making the most of the Chevening network…..
As a student based in London, I was also an active member of the London Chevening Scholars network. This allowed me to interact with different scholars studying at various universities in London. Thanks to this opportunity I met people from very different cultures and religions and we really managed to have some constructive discussions. In the end I realized that despite all our differences, there were one or two aspects of life which were similar in our countries.
Both my fellow Chevening scholars and SOAS friends really helped to keep a balanced life and contributed to the great experiences I had whilst staying in London. A friend once said, what makes one's experience interesting in a big city isn't usually the city itself but the people with whom you share this experience. To that, I am thankful that Chevening has allowed me to meet extraordinary people.
On return to Angola…
Today, as I go through my re-entry process (upon my return to Angola), I can see that the country is different although many of the problems persist. I can say without any doubt that I have changed a whole lot! I have learnt to appreciate and value difference and now I can make sense of what is taking place in Angola. In order to enable Angolans to do the same I have started a blog Development Studies: Reflexões sobre Politicas de Desenvolvimento Economico, where I address different issues related to the Political Economy of Development.
Advice for future applicants…
My advice for future Angolan scholars is very simple: be ready to face a very challenging academic programme but in the process do not forget to celebrate the time as an opportunity for cultural exchange (be it music, food, religion or any aspect of life) and networking. Be open-minded and make friends, both fellow Chevening scholars and your University course friends. In the end, you will want to remember the moments you spent with people; you only have one year but you can still make lifelong friends.
As for the future, I really believe that now that I understand better what is happening in Angola. The true challenge will be to not be seen as a "Westernized" person, but as someone who believes that in order for the country to move forward, we as Angolans need to promote a few changes and not wait for an external expert opinion!
Document information
Published: 8 October 2013