Anglesey signs Armed Forces Community Covenant
Representatives of the Isle of Anglesey County Council signed the Armed Forces Community Covenant last week at RAF Valley, becoming the 40th county to do so.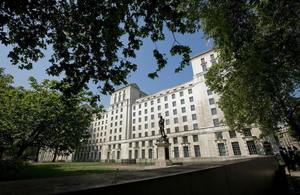 RAF Valley, located on Anglesey, welcomed a huge cast of civic dignitaries, community leaders, veterans and Service personnel to celebrate the event on Thursday 24 May.
RAF Valley's Station Commander, Group Captain Adrian Hill, said:
Today is a historic day for the military and the community that we have been part of since early 1942.
He added:
We are on strong and proud community foundations in Anglesey and this Covenant takes us forward as a family, together.
Signatories came to the base from all over Anglesey and included senior political figures and representatives from local schools, military support services, community groups, charities and conservation groups.
The Anglesey Covenant was also signed by the Island's most senior citizen, Lord Anglesey, aged 92; himself a veteran of the Second World War.
RAF Valley also announced the innovative 'Make the Covenant Count Programme', which ensures that the Covenant concept continuously evolves and is of benefit to communities.
The programme was launched with the announcement of RAF Valley's leadership of a North Wales Veterans Focus Group, supported by the Welsh Assembly.
The RAF Valley Covenant Team is led by Flight Lieutenant Rob Pitt, an RAF Regiment reservist and part of RAF Valley's Support Wing. He said:
We have an amazing team here to help deliver the Armed Forces Community Covenant from this day forward at RAF Valley.
Anglesey Council Chairman, Councillor Robert Llewelyn Jones, said in his speech:
The Island Council proudly undertake to support our military community by providing a single point of contact to hold the Armed Forces portfolio, ensuring that they are well supported on this great island.
The day concluded with a surprise visit by the Red Arrows aerobatic display team.
Published 28 May 2012