Press release
Angler lands large penalty for illegally taking fish
An angler who illegally took fish from the River Severn at Severn Stoke in Worcestershire has been ordered to pay nearly £600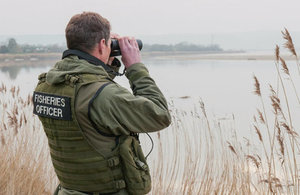 Jan Bukowski was caught by Environment Agency officers as part of Operation Stone targeting illegal fishing on 19 July 2015. He was ordered to pay £567.47 in fines and costs by Redditch Magistrates court on Thursday 5 May, after pleading guilty to 4 charges. Equipment seized from Mr Bukowski at the time of the offence was also subject to a court deprivation order. This order will permanently deprive him of property used in committing or facilitating the offence.
Mr Bukowski pleaded guilty to taking fish from a private fishery, contrary to the Theft Act, and removing bream and eels contrary to Environment Agency national byelaws. He was also convicted of fishing without a rod licence.
Following the verdict, an Environment Agency spokesman said:
Operation Stone continues to target illegal fishing on the Severn. We also work in partnership with the police on Operation Leviathan, all under the umbrella of the National Wildlife Crime Unit's Project Poacher. Additionally, Angling Trust volunteers are keeping watch under Operation Clampdown nation-wide this year. Poachers are more likely to be caught than ever before.
Money raised from rod licence sales is used to protect and improve fish stocks and fisheries, benefiting all anglers. We hope that this case will provide yet another deterrent for any angler thinking of fishing illegally.
As well as cheating other anglers, fishing illegally can carry a hefty penalty. Getting caught without an appropriate licence could land you with a fine of up to £2,500 and up to £50,000 for byelaw offences.
Last year in England the Environment Agency checked over 62,000 rod licences and prosecuted more than 1,900 anglers for rod and line offences resulting in fines and costs in excess of £500,000.
Anyone with information about illegal fishing activities can contact the Environment Agency incident hotline on 0800 80 70 60 or anonymously to Crimestoppers on 0800 555 111.
Published 9 May 2016