World news story
Angelina Jolie delivers speech in Tokyo on Preventing Sexual Violence in Conflict
UN Special Envoy, British and Japanese Foreign Ministers and former UN High Commissioner raise awareness of campaign to eradicate warzone rape worldwide.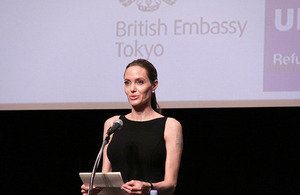 On Monday 29th July, Angelina Jolie, Special Envoy for the United Nations refugee agency, visited the UN University in Tokyo for a special screening of her film In the Land of Blood and Honey. Supported by the British Embassy Tokyo, the UN Refugee Agency (UNHCR) and the film's distributor in Japan, Ayapro, the event saw Ms Jolie give a speech on her involvement in the Preventing Sexual Violence in Conflict initiative - a campaign launched by Ms Jolie and the British Foreign Secretary William Hague to eradicate warzone rape worldwide.
Directed by Angelina Jolie and set in Bosnia-Herzegovina, In the Land of Blood and Honey will be showing in selected Japanese cinemas from 10th August and gives a compelling insight into the devastating way in which sexual violence is used as a weapon of war. It touches on issues universal to conflict, including the consequences of non-intervention, the plight of women, the need for accountability and the challenges of reconciliation.
Speaking before the audience of UN University students, government and non-government organisation representatives, business leaders and media, Ms Angelina Jolie said:
I was humbled when William Hague, Britain's Foreign Secretary, contacted me to say that he had seen In The Land of Blood and Honey, was concerned about the subject and wanted to do what he could to help. Fourteen months ago in London we launched a new initiative, seeking global action to end sexual violence in conflict. Our journey since then has taken us to the DRC, to the G8, and to the United Nations Security Council. We have met remarkable people and organisations working to secure justice for survivors and hold governments accountable. And we have seen inspiring progress. In April this year the G8 made a historic promise to work together to end warzone rape and sexual violence. Japan was a vital part of this landmark agreement. And just last month, the Security Council adopted a new Resolution providing practical and focussed leadership. But this is just a beginning. It needs every effort at every level, from Governments and the United Nations down to communities and families. We cannot change the past – but the future – well that is an open question. And you all are part of the answer.
Ms Julia Longbottom, Acting Ambassador, British Embassy Tokyo read out a letter from British Foreign Secretary William Hague, who said:
For too long the survivors of rape and sexual violence from Bosnia to Somalia have been forgotten. The systematic abuse in our lifetimes of hundreds of thousands – if not millions – of women, girls and men has been treated as a secondary issue. This has got to change. We have to shatter impunity for those who use rape as a weapon of war, and never again abandon victims. We need political leaders to speak out, and citizens to ask their own governments to do more. We must make it impossible for the stories depicted in this film to be repeated. That is why Angelina Jolie and I are campaigning together, calling for decisive international action. I am extremely grateful for Japan's active involvement and leadership. And I hope tonight will mark the start of even deeper cooperation between our countries - with your support - so that this becomes a defining cause for our generation.
Japanese Foreign Secretary Fumio Kishida delivered a video message, saying:
It is highly regrettable that so many women are the victims of rape and sexual violence in conflicts around the world today. We must work together to end this situation as soon as possible. G8 Foreign Ministers adopted the G8 Declaration on Preventing Sexual Violence in Conflict at our meeting in London in April this year. I expressed Japan's support for this initiative and set out Japan's work on this issue. At the G8 Foreign Ministers' meeting, I had the opportunity to meet Ms Angelina Jolie, who directed the film In the Land of Blood and Honey. Together with Mr Hague, Ms Jolie is working tirelessly to eradicate sexual violence in conflict. I have deep respect for her efforts on this issue, to which she dedicates time and effort at the same time as being a busy mother, artist and film director. I hope today's screening will deepen understanding of this issue, and that it will encourage many Japanese people to join the campaign led by Ms Jolie and many other people around the world. I myself am determined to continue to engage on the issue.
Sadako Ogata, former United Nations High Commissioner for Refugees (UNHCR) and former President of Japan International Cooperation Agency, was also in attendance as a guest speaker. While expressing her appreciation for the initiative to raise awareness about preventing sexual violence in conflict by Mr. Hague and Angelina Jolie, Mrs. Ogata remarked that:
In this film [In the Land of Blood and Honey] you will see many scenes in Bosnia-Herzegovina, where I travelled to with UNHCR. Even many years after the war had ended, we encountered many issues. Refugees were returning but they had no homes or family members left and were vulnerable to rape and sexual violence. Our mission was to help these people return as fully-fledged members of their communities. I am sure that you will be inspired in many ways by the scenes in this film, so please view it with attention and think about what you can do, what the Japanese can do, what we ourselves can do to help those in need.
These messages, including Ms Jolie's talk were broadcast live via Ustream, and can be viewed by visiting the Ustream channel at:
English: http://www.ustream.tv/channel/angelinajolie-en
Japanese: http://www.ustream.tv/channel/angelinajolie
Online viewers are encouraged to join in the discussion using the Twitter hashtags #SexualViolence #TimeToAct and #conflict.
Further information
Read UN Security Council Resolution 2106
Watch a video of the Foreign Secretary speaking to media before the debate
Read remarks made by Secretary General Ban Ki-moon
Read more about the Preventing Sexual Violence Initiative
More information on the Preventing Sexual Violence Initiative at our tumblr
Read the G8 Declaration on Preventing Sexual Violence in Conflict
Find out more about the UK's work to support women and girls around the world
Follow on Twitter @FCOhumanrights or follow the hashtags #timetoact, #sexualviolence and #conflict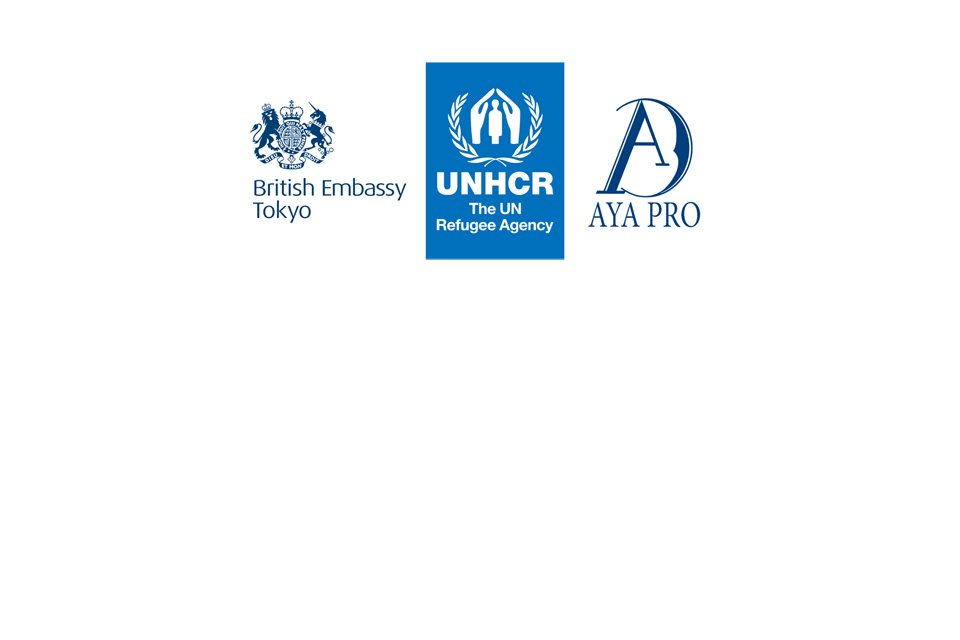 Published 30 July 2013
Last updated 30 July 2013
+ show all updates
Ms Ogata quote added
Added translation