News story
Angela recognised for helping to empower women in the North
Sellafield Ltd director, Angela Seeney, has been named in the top 50 Northern Power Women's 2019 'power list'.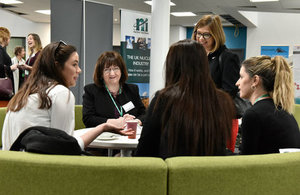 The power list celebrates 50 women across the north of the country who are working to improve equality, diversity and gender balance in the workplace.
Former apprentice, Angela, joined Sellafield Ltd as transformation director in 2017, after a 30 year career in the oil and gas industry.
She said;
I am honoured and humbled to be in a list with such inspirational role models and formidable change agents.

The work of Northern Power Women is incredibly important to ensure we support regional and national economic growth, aswell as create the skilled and diverse workforce for the future.

I am proud to represent Sellafield Ltd and Women in Nuclear (WiN) Cumbria in this arena.

With 42% of apprentices at Sellafield being female and the incredible work of WiN Cumbria to ensure our county plays our part in the ambitions laid out in the Nuclear Sector Deal, we are leading the way to drive gender balance in the nuclear industry.
Simone Roche MBE, founder of Northern Power Women, said:
I am extremely proud of these role models.

They are amazing people doing fantastic work and they deserve every bit of recognition. Without the women on our power list it would be impossible for us to do what we do across the North.

Each person named has played a part in driving forward the Northern Power Women agenda and have helped push out the boundaries.
Northern Power Women showcases role models and celebrate the many different ways women contribute to a thriving Northern Powerhouse.
Sellafield Ltd joined the Northern Powerhouse Partnership in 2018 to connect Cumbria with other northern towns and cities helping to drive economic growth via investments in skills, innovation, transport and culture.
Published 24 January 2019