World news story
Andy Murray meets Croatian wheelchair tennis players
Ahead of Croatia-Great Britain Davis Cup match, Wimbledon Champion Andy Murray meets Croatian wheelchair tennis players.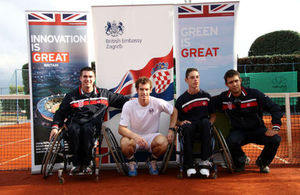 It`s now only a day to the start of the Davis Cup match in Umag where Croatia will play host to Great Britain in the World Group play-off. We visited Umag to introduce Wimbledon Champion Andy Murray to Croatian wheelchair tennis players Ninoslav Krsnik and Antonio Arambašić and their coach Mate Novak. Ninoslav, who is a member of the Croatian wheelchair tennis team, told us that Andy is one of his idols.
Almost exactly one year on from the Games themselves, this event represents a great symbol of the London 2012 legacy. London was the centre of the world last year during the Olympic and Paralympic Games and showed the very best of athletes from every continent. For London and the UK, 2012 was one of the GREATest summers in living memory. But it is also important to build on the achievements of London 2012, including boosting participation in sport. We hope that the Davis Cup match in Umag will inspire potential tennis players in GB and Croatia to get involved, and that players such as Andy, Ninoslav and Antonio will all act as inspiration to those thinking of taking up this marvellous sport!
Published 13 September 2013