Press release
Andrew's overnight role is a way of life
As the clocks go back and the cold evenings draw in, drivers across the South West are asked to spare a thought for the army of night time road workers delivering Highways England's record £2 billion investment in the region.
This news article was withdrawn on
This document is no longer current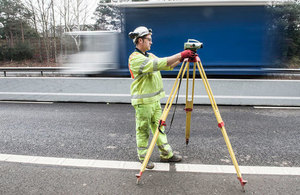 This unseen army work tirelessly on the motorway and major A road network, while the rest of us sleep
To minimise disruption to commuters and traders the vast majority of our work is carried out overnight" said Highways England's service delivery manager for the South West Julian Strong.

Around two thirds of our road works are carried out overnight. That means dozens of road workers out on the motorway and major A roads network across Devon and Cornwall, every night in all kinds of weather, helping to keep the economy on the move by carrying out repairs and improvements when the roads are quiet.
The 'while you were asleep' message comes as a record amount of funding is being targeted at delivering extra road capacity and extra maintenance to provide more reliable journeys – with 80 percent of the strategic road network due to be resurfaced by the end of 2020.
On the front line – facing everything from wind and rain to abuse from road users – is an army of Highways England workers delivering new gantries and signs, barrier repairs, resurfacing, within tight deadlines and working close to fast moving traffic.
Andrew Teuton, 34, works overnight on Highways England schemes in Devon and Cornwall.
I've been working on the roads at night for the last eight years," he said. "As the network becomes busier there are more and more restrictions on when and where we can work, so overnight working has become more frequent.

Many jobs are easier and safer to do at night, due to lower traffic flows. However, noisy operations can't be done after certain hours at night, which is a problem in Devon and Cornwall where many trunk roads pass through villages.

Night working restricts the ability to quickly source materials, so requires more planning. It is easy to source extra materials during the day, or to speak to someone if you hit a problem, but difficult in the middle of the night, so some tasks need to be rolled into the next day.

I go home after a night shift, do any paperwork and go straight to bed. Others need to wind down before going to sleep and watch some television first. It is important to plan your sleep, especially when switching from weekends or between daytime and night time working. 'How much sleep did you get?' is a regular topic of conversation among night workers.

I work up to an hour away from my home in mid Cornwall, and the drive at the end of the shift is the worst bit. But I don't mind night working, as long as you have enough notice to help plan family and social life.
Our commitment to night working doesn't end with roadworks. Our customer contact centre is staffed around the clock – so anyone can call to get the latest information on their journey, at any time.
Our traffic officers patrol motorways in the South West through the day and night – and are there to help deal with incidents and keep traffic moving, and our regional control centre, based in Avonmouth, has staff glued to CCTV screens 24/7, helping to monitor traffic and manage incidents, including Christmas and New Year's Day.
General enquiries
Members of the public should contact the Highways England customer contact centre on 0300 123 5000.
Media enquiries
Journalists should contact the Highways England press office on 0844 693 1448 and use the menu to speak to the most appropriate press officer.
Published 28 October 2015