Andrew Stunell sets out the stall for new Sheffield market
Minister closes Love Your Local Market Fortnight with visit to site of new indoor market Markets Minister Andrew Stunell saw the exciting developments…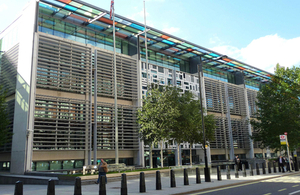 Minister closes Love Your Local Market Fortnight with visit to site of new indoor market
Markets Minister Andrew Stunell saw the exciting developments for market traders and buyers when he attended the turf-cutting ceremony for the new Moor Market in Sheffield today.
Andrew Stunell speaking at the turf-cutting ceremony
As a celebratory, closing event for the Love Your Local Markets fortnight, Mr Stunell saw work getting under way on the city's new multi-million pound market that is the only purpose-built market under construction in the UK.
The new £18 million market is due to open next year and will house over 200 stalls and eight permanent shopping units. Alongside the market, investment in the surrounding area will also see improved paving, seating and a green face-lift with new plants and flowers.
Markets Minister Andrew Stunell said:
This new development shows there is a real appetite amongst consumers for the authentic market experience - seeing the produce, bartering for a good price and chatting to your friendly stall owner.

Love Your Local Market fortnight has been a great success in highlighting how markets can breathe life back into town and city centres and visiting this new grand development is the perfect way to finish. It will be a credit to the city of Sheffield for years to come.
Leader of Sheffield Council, Councillor Julie Dore said:
This marks a very exciting new chapter in the 800 year history of markets in Sheffield. Our market has one of the highest concentrations of small businesses in the city and the new hall underlines our commitment to helping them succeed.

The new development will reinforce The Moor's position as one of Sheffield's main shopping areas. While work is going on it's business as usual for The Moor and we will try to keep disruption to a minimum. The second phase of The Moor's transformation has begun and we trust shoppers will bear with us during this time.
Love Your Local Market has been a two-week campaign that has seen over 400 local markets will involved in celebrations all over the country, attracting visitors into towns, helping new start-ups and boosting enterprise. Star of TV's Apprentice, Adam Corbally, has given traders his Top 10 tips for success and Government ministers have been visiting their local markets.
The two weeks of trading have also seen thousands of budding entrepreneurs and shopkeepers try their hand at operating a low-cost retail business at markets as thousands of extra low-cost pitches were made available.
Video
MS Word, 25 kb
Photos
Background
Love Your Local Market is an exciting new campaign to showcase markets of all types from around the UK. Many markets will feature special activities between 23 June and 8 July 2012.
The campaign is co-ordinated by the National Market Trader Federation and the Markets Alliance which comprises:
More details of the Love Your Local Market campaign including a list of participating markets can be found here: www.loveyourlocalmarket.org.uk (external link).
Images
Published 6 July 2012