Andrew Stunell reappoints chair to West Northamptonshire Development Corporation
Communities Minister Andrew Stunell has today announced the reappointment of the current Chairman to the Board of West Northamptonshire Development…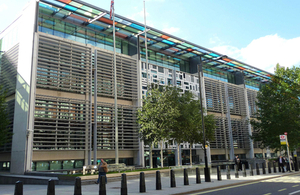 Communities Minister Andrew Stunell has today announced the reappointment of the current Chairman to the Board of West Northamptonshire Development Corporation, the agency driving regeneration in West Northamptonshire.
John Markham has been reappointed as Chair for a second term. The appointment will run for the remaining life of the Corporation.
This reappointment follows approval by Parliament of a statutory instrument to formally restructure of the Board of the Corporation which came into force on 17 November 2011. The Order reduced the size of the Board from 13 including Chair and Deputy Chair, to nine. Six of the remaining seats on the Board are reserved for the four local authorities, giving them a majority of seats on the Board.
Andrew Stunell said:
The West Northamptonshire Development Corporation has started the last phase of its work where it has the important role of delivering some key local development projects and also becoming a more locally based body.

The process for change has already begun with restructuring of the Board to make it more locally accountable and the return of the first phase of statutory planning powers to the local authorities in April 2011. The full return of planning powers will be completed in April 2012, subject to parliamentary approval.

The Corporation will focus on using its statutory powers to take forward five key projects in Northampton which should then transfer to a local authority vehicle for completion at the end of 2013/14. Strong leadership will be vital during this period of transition and I am delighted to announce the reappointment of John Markham as Chair to lead the Corporation as it drives forward this important work.
John Markham, Chair of the West Northamptonshire Development Corporation, said:
I'm very pleased to be leading the Corporation during this highly important and exciting time for West Northamptonshire. The area represents one of the UK's best opportunities for attracting new jobs and private investment.

Since being established, West Northamptonshire Development Corporation has invested around £80 million in regeneration projects across West Northamptonshire. A considerable amount of progress has already been made, with projects ranging from Northampton's Becket's Park Marina to Daventry's iCon Innovation Centre already making a positive impact on the area.

However, there's a lot more to be achieved and the Corporation has a vital role to play over coming years. Working in partnership with the local authorities, we will continue to progress a range of regeneration schemes, including the redevelopment of Northampton' Grosvenor Centre, Railway Station and Waterside area.
The West Northamptonshire Development Corporation was established in 2004 to drive forward regeneration, improved infrastructure, investment and sustainable growth in the towns of Northampton, Daventry and Towcester. The Public Bodies Review announced in October that the corporation would be devolved into a local authority led delivery vehicle based on proposals to be submitted by the local authorities.
Notes to editors
1. John Markham has been reappointed as Chair for a second term until 31 March 2014. Remuneration will be £47,332.21 for two days per week.
The appointment has been made in accordance with the Commissioner for Public Appointments' Code of Practice for Ministerial Appointments. All appointments are made on merit and political activity plays no part in the selection process. However, in accordance with the original Nolan recommendations, there is a requirement for appointees' political activity (if any declared) to be made public. A brief biography is set out below:
John Markham, OBE
John has had a distinguished career in the chemical industry holding senior positions at ICI and Albright and Wilson before becoming CEO of Hickson International plc a major global chemical company. During this period he was Chairman of the Whitehaven Development Company (WDC) and a passionate supporter of community projects e.g. Open Industry in Yorkshire, Whitehaven Youth Trust, several school governing bodies etc.
In 2008 he became Chair of West Northamptonshire Development Corporation and in April this year was appointed Chair of the Northamptonshire Leadership Group which involves all of the public sector bodies in the County. He is also currently a Board Member of the Northamptonshire Local Enterprise Partnership and the Northampton Enterprise Zone.
He is a Non-Executive Director of Inditherm plc and of Aeternum Capital LLP. He has an honours degree in Chemical Engineering, he is a Chartered Engineer and a Chartered Scientist and a Fellow of the Institution of Chemical Engineers. In 1995 he was awarded the OBE for services to industry.
Political Activity:
John does not hold any other ministerial public appointments and has declared that he has not been involved in political activity over the past 5 years.
4. Urban Development Corporations (such as the West Northamptonshire Development Corporation) objectives are to secure the regeneration of its area. This is to be achieved in particular through:
bringing land and buildings into effective use
encouraging the development of existing and new industry and commerce
creating an attractive environment, and
ensuring housing and social facilities are available to encourage people to live and work in the area.
For the purpose of achieving the regeneration of its area, the West Northamptonshire Development Corporation may:
acquire, hold, manage, reclaim and dispose of land and other property
carry out buildings and other operations
seek to ensure the provision of water, electricity, gas, sewerage and other services, and
carry on any business or undertaking for the purposes of regenerating its area.
Twitter
Keep up to date with the Department by following us on Twitter (external link).
Media enquiries
Visit our newsroom contacts page for media enquiry contact details.
Published 12 December 2011