News story
Andrew Murrison writes Letter to an Unknown Soldier
Dr Murrison's letter is part of an arts project to commemorate the start of the First World War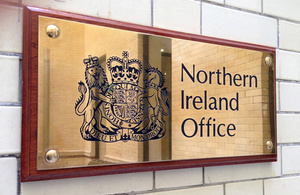 Northern Ireland Minister, Dr Andrew Murrison MP has written his Letter to an Unknown Soldier in the run-up to the centenary of the start of the First World War on Monday 4 August.
As well as being the newly appointed Parliamentary Under-Secretary of State at the Northern Ireland Office, Dr Murrison is the Prime Minister's Special Representative for the First World War Centenary Commemoration.
The letter project, run by the lottery funded 14-18 Now, is asking as many people as possible to send a personal message to the unknown soldier, whose statue at London's Paddington Station is seen reading a letter.
Dr Murrison sent his letter from his office in Stormont. He says the soldier he had in mind is commemorated at the war memorial gardens at Islandbridge in Dublin, which he visited earlier this month. Islandbridge commemorates all those from across the island of Ireland who made the ultimate sacrifice in the Great War.
So far more than 16,000 letters from schoolchildren, community groups, the Prime Minister, MPs, serving soldiers and many others have been published on the site. Letters are also featured from established authors, poets and performers including Sheila Hancock, Dawn French, Sebastian Faulks, Mark Haddon and Stephen Fry. Their thoughts all form part of an online exhibition, which will eventually be archived in the British Library where it will remain permanently.
It's not too late to write your own letter – the project runs until 11pm on 4 August, the point at which the UK entered the war 100 years ago.
Published 31 July 2014