Andrew Mitchell welcomes UN Women strategy
Today Andrew Mitchell welcomed the launch of UN Women's forward-looking strategic plan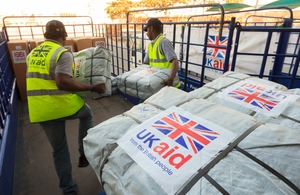 Today, Development Secretary Andrew Mitchell welcomed the launch of UN Women's forward-looking strategic plan. Set up six months ago, the newly-established UN agency is dedicated to achieving gender equality and the empowerment of women.
Responding to the new plan Andrew Mitchell said:
UN Women's strategic plan is an important milestone, underlining its tremendous potential to improve the lives of millions of girls and women.

Britain has already provided support to get this important agency up and running. Now that the strategic plan has been received I will consider very carefully how we can support its vital mission and deliver value for money to British taxpayers and those we are trying to help.
The agency is intended to be a global champion for women and girls and was established to accelerate progress on meeting their needs worldwide. Introducing its plan for 2011 - 2013 at the UN headquarters in New York, Executive Director Michelle Bachelet said: 
The strategic plan before you is our shared roadmap for the next few years. Like any good map, it sets out a general direction to be followed. We will need to come back to it regularly to see if we need mid-course corrections and whether we are on the right track.
The plan details a long term vision for the agency, focussed on six key goals aimed to:
Increase women's political leadership
Improve women's access to economic opportunities
Prevent violence against women and girls
Boost women's leadership in peace, security and humanitarian work
Strengthen national planning that promotes gender equality
Increase the attention on gender equality at an inter-governmental level
Getting the right results for girls and women
At the appointment of the new head of UN Women earlier this year, Andrew Mitchell said that Michelle Bachelet has the skills and authority to tackle the world's failure to address this urgent issue. However he noted that UN Women must prove that it can deliver results where it matters most.
Andrew Mitchell will work closely with the Home Secretary Theresa May and international violence against women champion and equalities minister Lynne Featherstone to consider how the British Government can support UN Women.
Britain's recent review of multilateral aid agencies confirmed that there was a major gap in the international community's assistance to women and girls, who still make up the majority of the world's poorest people.
Every 90 seconds a woman dies from complications in pregnancy and childbirth in developing countries, while girls in South Sudan are more likely to die in childbirth than complete primary school.
Through its strategic plan UN Women will advocate for women's empowerment and rights in over 70 countries, support another 15 countries adopt legislation to tackle domestic violence and support efforts to allow women to participate in political decision-making in 25 more countries.
Published 30 June 2011