Andrew Mitchell visits Gaza and announces education support
UK to support 24,000 children to attend school, with half being girls, to address the education emergency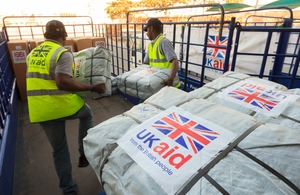 British Development Secretary, Andrew Mitchell, announced today on his first visit to Gaza, that the UK would help to address an education emergency and promote trade in the region.
This support will help tackle the desperate need for school places for refugees in Gaza, making it possible for 24,000 children to attend school, half will be girls. UK support, through the Palestinian Authority - United Nations Trust Fund, will allow the United Nations Relief and Works Agency (UNRWA) to construct twelve new schools.
The chance of a brighter future
During his visit International Development Secretary Andrew Mitchell saw for himself the work that UNRWA is already doing to address the education problems in Gaza.
Andrew Mitchell said:
Gaza is currently facing an education emergency, with over 40,000 refugee children unable to go to UNRWA schools. Education is a fundamental cornerstone of development, allowing people to lift themselves out of poverty. With more than 50% of Gaza's population aged under 18, improving access to education is essential.

Today, I have seen for myself the vital work that UNRWA, supported by Britain, is doing to address the problems in Gaza. I have met children whose lives will be vastly improved by access to even the most basic education, and the teachers whose dedication means their pupils have the chance of a brighter future." 
An education emergency
Education has been severely limited by ongoing movement and access restrictions in Gaza. Currently:
40,000 refugee children have no school place
95% of UNRWA schools are running at double capacity
1,410 students are educated in shipping containers
Around 8,000 students rotate their learning periods between classrooms and the school courtyard.
Palestinian Authority Prime Minister Salam Fayyad said:
The Palestinian Authority is committed to ensuring that all Palestinian children have access to quality education. There is an urgent need to improve educational facilities in Gaza and we welcome the UK's support for these much-needed new schools.
Improving trade
On his visit, the Development Secretary met with Prime Minister Fayyad and Palestinian President Mahmoud Abbas, as well as with Israeli Minister Benny Begin to discuss the ongoing political situation and the need for increased access and movement of goods and people into and out of Gaza.
Whilst in Gaza, Andrew Mitchell also visited the Commonwealth War Graves Cemetery and laid a wreath.
Published 18 December 2011