Andrew Mitchell visits Ethiopia
International Development Secretary Andrew Mitchell saw for himself how british aid is changing lives when he spent Saturday night in a rural village in the Azernet Berbere district of Ethiopia.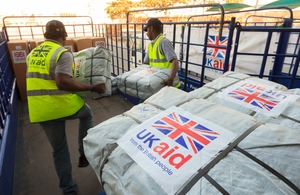 Video: watch Andrew Mitchell's video diary of his time with an Ethiopian family
During the visit, which was organised by ActionAid Ethiopia, Mitchell stayed with a farming family which survives on less than a dollar a day each. He prepared and ate food with the family, and slept alongside them and their cattle on the floor of their tukul, a traditional single-room hut with a thatched roof.
International Development Secretary Andrew Mitchell said:
"It was humbling to be welcomed as the guest of Abrar and his family, as I shared a typical day in their lives. I saw how tough life is for them. The eight children have just one set of ragged clothes each, and their mother told me how she struggles to provide enough food for the family.
"If you are involved in fighting global poverty, it is important that you get a sense, even if only for a day, of what it is like to live and survive without the most basic things, like electricity and a regular supply of food. 
"But I also saw how British aid has helped the family to improve their lives - and now they have access to clean drinking water, health care and education. The people of Britain can be proud that their aid is helping Abrar and millions of people like him to pull themselves out of abject poverty."
Andrew Mitchell also met with Ethiopian Prime Minister Meles, Minister of Health Dr Tedros, Africa Union Commission Chairperson Jean Ping, Ethiopian business leaders, opposition party leaders, and representatives of civil society.
Mr. Mitchell will use the visit to inform the UK's ongoing global aid review, intended to ensure that british aid provides the greatest possible impact around the world.
Published 5 September 2010