Press release
Andrew Dilnot appointed as Chair of the UK Statistics Authority
Andrew Dilnot has been appointed by Her Majesty the Queen as the new Chair of the UK Statistics Authority.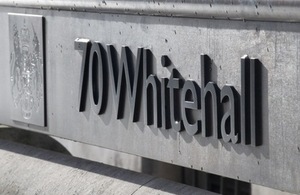 12 January 2012
CAB 002-12 
Andrew Dilnot has been appointed by Her Majesty the Queen as the new Chair of the UK Statistics Authority.
He has a long-standing record as an expert in using and communicating statistics, as a past Director of the Institute of Fiscal Studies, presenter of the radio programme "More or Less" and the joint author of the book on statistics "The Tiger That Isn't".
Welcoming the appointment, Francis Maude, Minister for the Cabinet Office said:
Andrew Dilnot is an exceptionally well-qualified candidate for this post. He has a passion for statistics and a record of demonstrating the independence that is vital for the Chair of the Statistics Authority. I would also like to thank the outgoing Chair, Sir Michael Scholar, for his excellent work.
The appointment was the subject of an open recruitment exercise following the Code of Practice set out by the Office of the Commissioner for Public Appointments, and approval by Parliament.
Andrew Dilnot will take up the post on 1st April 2012. He is currently Principal of St Hugh's College Oxford. From September 2012 he will be Warden of Nuffield College, Oxford. He does not hold any other ministerial appointments.
Notes to Editors
The UK Statistics Authority was established on 1 April 2008 by the Statistics and Registration Service Act 2007, with a statutory objective to promote and safeguard the production and publication of official statistics that serve the public good, and the quality and comprehensiveness of, and good practice in relation to, official statistics across the UK.
The Chair of the Authority is a Crown appointment, as set out in the Act.
The remuneration for the post is £71,500 per annum for two and a half days per week, and is for a non-renewable five year term.
All appointments are made on merit, and political activity plays no part in the selection process. In accordance with the original Nolan recommendations, there is a requirement for appointees' political activity (if any is declared) to be made public. Andrew Dilnot did not declare any political activity.
Published 12 January 2012