An upgraded HMS Illustrious begins sea trials
The 22,000-tonne ship, affectionately known as 'Lusty', left Rosyth in Fife over the weekend after 16 months in the dockyard where she underwent…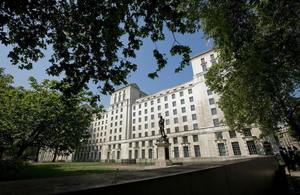 The 22,000-tonne ship, affectionately known as 'Lusty', left Rosyth in Fife over the weekend after 16 months in the dockyard where she underwent modifications to turn her into a helicopter and commando carrier, capable of carrying a force of up to 20 helicopters and 600 fully kitted-out personnel.
Her Commanding Officer, Captain Jerry Kyd, said:
This is a historic weekend for us as we sail from Rosyth for the last time and begin our preparation for our future role as a helicopter platform. We are in top condition for the challenges ahead thanks to the hard work of my sailors and the successful partnership that we have had with industry.

We are now raring to go, ready to take this great ship to sea for trials, and then home to Portsmouth, where we will prepare for her exciting future role.
The work was carried out by a partnership of Babcock Marine, the ship's company, MOD and BAE Systems. Other work on HMS Illustrious included:
applying 540,000 litres of paint to the ship, including a fuel-efficient outer hull coating that will save tonnes of fuel and CO2 emissions over her remaining life;
other improvements that lower the ship's environmental impact, including reverse osmosis fresh water-making systems;
installation of a new computer and communications system and a defensive anti-torpedo system;
improvements to the living conditions for the crew and any embarked troops.
Captain Graeme Little, from the Capital Ships team in MOD's Defence Equipment and Support organisation, said:
This has been a challenging project delivered to a very high standard by the joint project team and both on time and on budget. We approach her return to the Navy with confidence in the significant improvements that have been made.
Having already completed one week of initial sea safety training and preliminary sea trials, the Portsmouth-based ship will now undergo a further five weeks of sea trials before returning to the fleet at the end of July 2011.
HMS Illustrious will then assume a helicopter and commando carrier role while HMS Ocean undergoes a planned refit, which is due for completion by 2014.
This will ensure that the UK retains the ability to deliver an amphibious intervention force from the sea and maintain an experienced crew to support the later introduction into service of the new Queen Elizabeth Class carriers. Illustrious will then be withdrawn from service.
Published 21 June 2011