An inspection of Border Force operations at Manchester Airport, July to October 2015
The Chief Inspector, David Bolt, has released his report on Border Force operations at Manchester Airport.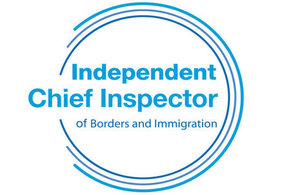 Border Force is an operational command of the Home Office responsible for securing the UK border by carrying out immigration and customs controls of people and goods entering and leaving the UK. This inspection examined how efficiently and effectively Border Force managed those operations at Manchester Airport.
At the time of the inspection, Manchester was the UK's third largest airport, with 3 passenger terminals and a freight terminal. It served as a travel hub for the North of England, Scotland and Northern Ireland. In 2014 to 2015, it had handled over 22 million passengers, with flights to more than 200 destinations (more than any other UK airport). Passenger traffic had been growing year on year, and the owners, Manchester Airport Group, had been driving forward an ambitious expansion plan that had seen new investment and increased flights, including new routes to China.
The inspection found that officers carrying out immigration checks understood and complied with the requirements of the Border Force 'Operating Mandate', although a number were not yet trained in the full range of immigration duties and this led to some inefficiencies in processing passengers and some operational risks. Senior managers had recognised the training issue and plans were in place to address it.
Border Force delivered its customs functions in line with relevant legislation and guidance. Customs checks had detected a range of illicit goods, but had been less successful against high priorities, such as Class A drugs. There were questions about whether detector dogs were being used to best effect. Some officers believed that their customs experience was not being put to best use; they risked losing their specialist skills, as they were being deployed to the immigration controls for the majority of the time.
Border Force had retained a dedicated customs team to deal with freight. The team enjoyed a degree of autonomy and dealt directly and effectively with the freight handling companies and other local partners. The morale of this team was noticeably higher than that of many of their colleagues in the passenger terminals, where 'staff engagement' had been identified as an issue. The inspection analysed Home Office staff survey results, talked to staff during 130 hours of onsite observation plus interviews and focus groups, and found that many felt undervalued and saw management as inflexible and unfair, despite the latter's efforts to communicate and recognise successes, and more recently to address specific staff concerns.
The report makes 6 recommendations for improvement:
In relation to the further examination for immigration purposes at Manchester Airport: * ensure that 'generally' the individual is interviewed 'fully to establish all the facts of the case' in compliance with the 'Border Force Operations Manual' * ensure that in every case where an IS81 has been served the outcome is entered on the central electronic record

In order to achieve the optimum 'multi-functional' workforce envisaged in the 'Manchester Airport Operating Model': * re-check the preferences of those Border Force officers based at Manchester Airport who previously opted not to train to be fully 'multi-functional' * produce a personal development plan for each officer at Manchester Airport that sets a clear expectation in terms of formal skills training in immigration and customs functions (CS1, CS2 and CS3), with timescales for their completion

In relation to immigration record keeping at Manchester Airport: * improve record keeping for cases where leave to enter is granted, with a clear audit trail from the evidence gathered to the decision * overhaul the local record keeping process for temporary admission cases to ensure that a risk assessment (in the approved Home Office format) is retained in line with the 'Operations Manual' and signed off as required by the assurance process

In relation to customs functions at Manchester Airport: * consider whether the deployment of staff and dogs in the customs channels has become predictable and therefore less effective against experienced smugglers * ensure the detector dogs are targeted against the commodities identified as high priority in the 'Border Force Control Strategy' * ensure that successful customs actions are communicated more effectively internally so that staff are fully aware of the frequency, type and value of customs work * implement the senior management vision that officers with specialist customs expertise should have opportunities to practise and retain their skills

In order to be better able to manage the planned increases in passenger arrivals at Manchester Airport: * continue to work with Manchester Airport Group (MAG) to identify and promote best practice in relation to queue management and to increase take-up of the ePassport gates by eligible passengers at all three passenger terminals

In order to improve Border Force employee engagement and morale at Manchester Airport: * ensure all staff are aware that the Home Office reward and recognition policy is being used * establish an effective means of publicising and celebrating team successes * ensure that any local initiatives, such as weekly G7 meetings with staff, are sustained, accessible to all staff (taking account of shift-working) and effective in addressing specific issues
The report was sent to the Home Secretary on 15 February 2016.
Full report: An inspection of Border Force operations at Manchester Airport, July to October 2015
The Home Office response to this and the Chief Inspector's other reports
Published 13 April 2016