World news story
American and British Blinded Veterans To Unite in Commemoration of World War I
A joint initiative of the Blinded Veterans Association (BVA) and Blind Veterans UK are once again bringing together veterans with vision loss from the United States and the United Kingdom this week.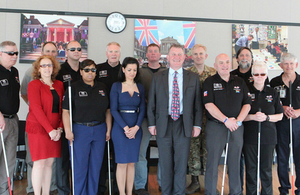 The exchange this year is taking place in Washington, DC in recognition of the centennial anniversary of World War I. Now in its seventh year and known as Project Gemini for the transatlantic cable that connects the two countries and continents, the week of activities in the Nation's Capital include educational forums, key federal agency site meetings with leaders of such agencies, and visits with U.S. vision rehabilitation experts, eye trauma specialists, researchers, and Department of Defense (DoD) specialty leadership.
"The goal of this April exchange is much like the ones we have already experienced in England," said BVA Government Relations Committee Chairman Major Tom Zampieri (Ret.) and annual coordinator of the exchanges. "We hope to learn from one another and share best practices in the area of blind rehabilitation, war eye injury management, and current vision research advances so that our participants can be prepared to share them with officials in their home countries."
Zampieri also emphasized the importance of the program in fostering mutual respect and understanding between the two allied nations as participants establish new friendships, share knowledge of blind and visually impaired rehabilitation services, and exchange insights and personal experiences regarding their own adjustment to blindness. This year, he says, it will happen as blinded veterans recognize the historical significance of World War I and the subsequent beginnings of blind rehabilitation programs.
U.S. blinded veteran participants are BVA National President and Vietnam War veteran Dale Stamper of Hayden, Idaho; Gulf War era veteran Monaca Gilmore of Rocky Mount, North Carolina; Gulf War I and II veteran Bryan Corcoran of Dayton, Ohio; and Vietnam era veteran Tom Zampieri of Pearland, Texas. Participating from the United Kingdom are Blind Veterans UK President Colin Williamson and Royal Navy veterans Steven Birkin and Sue Eyles. Alan Walker, an Army veteran who served in the Falkland Islands War in 1982, will also make the trip along with Blind Veterans UK Director of Research and Innovations Dr. Renata Gomes.
The program includes April 3 tours of Arlington National Cemetery, the Pentagon, and various other national memorials. The entourage will then be treated to the tactile tour of the U.S. Capitol and the British Embassy on April 4 followed by meetings at the renowned Walter Reed National Military Medical Center in Bethesda, Maryland on April 5 with the Director of the joint DoD/Department of Veterans Affairs (VA) Vision Center Excellence. On April 6, the groups from the two countries will meet with senior leaders and program directors at the VA Central Office on the official 100th anniversary of U.S. Expeditionary Forces' entry into World War I. On April 7 there will be a tour of the National Museum of Health and Medicine and two educational sessions, one the history of World War I injuries and the other on modern Traumatic Brain Injury caused by blast concussions-shell shock. The week will also include instruction in and practice of kayaking skills courtesy of Team River Runner.
BVA and Blind Veterans UK together established Project Gemini in May 2011. Each year four U.S. blinded veterans are hosted at the Blind Veterans UK facility in Brighton, England, with four of their counterparts in the UK. Project Gemini seeks to raise public awareness of the issues facing war veterans with vision loss and help them individually to discover opportunities for their lives after blindness. On March 24 of this year, Project Gemini was recognized in the UK with the "Soldiering On Award 2017" in the International category. The award acknowledges the outstanding achievements of those who have served their country, and of individuals and groups who successfully work together with the Armed Forces community in the UK.
"The vital relationship BVA has developed with Blind Veterans UK has blossomed to the point that our activities and opportunities continue to broaden and multiply," Zampieri said. "Our week in DC is one more such opportunity to share knowledge and experience about blind rehabilitation services, vision trauma care, blast concussions and research, as we strengthen our relationship with veterans from the United Kingdom."
Blind Veterans UK is a national charity, now 102 years of age, working on behalf of visually impaired ex-servicemen. Tracing its founding back to June 1915 in World War I, the organization now offers free and comprehensive support to all UK blinded veterans. For additional information, visit blindveterans.org.uk.
BVA's earliest beginnings occurred March 28, 1945 when a group of World War II blinded servicemen convened in a formal meeting at Avon Old Farms Convalescent Hospital near Avon, Connecticut, for the purpose of establishing the Association. For more information, visit bva.org.
Published 6 April 2017