World news story
Ambassador's Video Message: Paul Madden arrives in Japan
Watch our video message from new British Ambassador to Japan Paul Madden as we look ahead to a safe and prosperous 2017.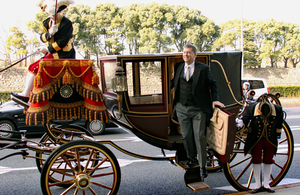 On Wednesday 18 January 2017, Paul Madden made the official presentation of his diplomatic credentials to His Majesty the Emperor of Japan, thus completing the formalities of his posting as British Ambassador to Japan.
Ambassador Madden has released a new year video message to introduce himself and share his impressions of being back in Tokyo:
I'm delighted to be returning to Tokyo as Ambassador, as it's here that I began my diplomatic career more than 25 years ago. Since then I've spent much of my time in Asia Pacific. For my wife Sarah and I, Japan is a very special place, because it's where we began our married life and where our first child was born.
Reflecting on the UK-Japan relationship, he said:
I'm pleased to see that the partnership between Britain and Japan has gone from strength to strength. Economically we do about £20bn of trade with each other every year, and Japanese companies have invested £40bn in the UK, employing some 140,000 people in sectors like cars, financial services and pharmaceuticals. Just recently we have seen major new investments announced by Nissan and Softbank, while Hitachi and Toshiba have chosen to invest in the UK nuclear industry.
In defence and security, we now have a formal annual dialogue between our Foreign and Defence Ministers, the so-called 2+2 meetings. We see Japan as our closest security partner in Asia. Last year, for the first time, we had Royal Airforce Typhoon fighter jets here for very successful joint exercises with the JSDF.
Looking to what lies ahead during his ambassadorship, he added:
I'm a sports fan so I'm looking forward to seeing the Rugby World Cup, the Olympics and the Paralympics in Japan during my time here. We've recently hosted all those events in Britain too, so there are lots of opportunities for us to work together. These events will bring lots of British visitors to Japan. I'm sure they will enjoy what they find here, just as the many Japanese tourists who go to the UK have a great time.
I know that there are many uncertainties in the world we face today. One set of uncertainties is around how the detailed negotiations will develop as Britain leaves the EU. But I am confident that Britain will continue to be a very good place for Japanese companies to invest and do business in. And that Britain will continue to be an open, outward looking country, actively engaged in global issues, together with key partners like Japan.
To keep up to date with Ambassador Madden, follow him on Twitter at @PaulMaddenUK.
Message from the new British Ambassador to Japan
Related links
Published 18 January 2017