World news story
Ambassadors meet in London to discuss cooperation and shared priorities
British Ambassador to Honduras, Carolyn Davidson, took advantage of a recent visit to London to meet with the Honduran Ambassador to the UK, Mr. Ivan Romero.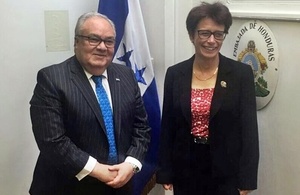 At the meeting both diplomats agreed to enhance strategic cooperation and coordination of policies which advance shared political, security and economic objectives in Honduras.
The Ambassadors reaffirmed their united position on supporting the battle against corruption in Honduras, as stated by UK Minister Baroness Anelay of St Johns during her visit to the country in December last year. During her visit the UK committed 500,000 lempiras to fund the Mission of Support Against Corruption and Impunity in Honduras (MACCIH).
They noted the support provided by the UK in strengthening the security in Honduras by providing training to the police force, the efforts to improve the implementation of human rights related laws, and the opportunities given to young Hondurans to study in the UK thanks to the Chevening Scholarship programme. Moreover, the Ambassadors emphasized that the UK-Honduras relationship remains as stronger than ever, despite the decision by the British people to leave the European Union.
In view of the significant political, economic and security challenges facing Honduras, the Ambassadors agreed that both countries would continue to take concerted and collective action under the framework of the UK-Honduras bilateral cooperation to promote security, stability, and economic prosperity throughout the country.
The Ambassadors pledged to sustain ongoing, bilateral interaction between senior representatives from the United Kingdom and Honduras as a complement to the strong bilateral ties that underline our close partnership.
Published 9 March 2017