World news story
Ambassadors for a Day
From:

Part of:

Published:

24 June 2013

Last updated:

24 June 2013, see all updates
This was published under the 2010 to 2015 Conservative and Liberal Democrat coalition government
Two Uruguayan students won the competition organised by the British Embassy in Uruguay to celebrate the Queen's Coronation Anniversary.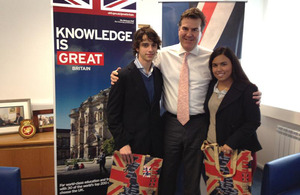 Cecilia Toledo and Federico Panizza -both 15 years-old- had the opportunity to spend a day with British Ambassador Ben Lyster-Binns on 20 June. The aim was for them to gain insight and experience of what the Ambassador and the British embassy do in Uruguay.
The Embassy's driver picked them up from their homes, as he does every morning for the Ambassador.
Upon arrival they had a tour of the Embassy and took part in the weekly staff meeting. Next, they visited the NGO CEPRODIH, which helps vulnerable women to develop their own businesses. The Embassy has been working with CEPRODIH through bilateral projects and the three Ambassadors had the chance to learn more about the organisation.
Cecilia and Federico then enjoyed lunch at the Residence with the Ambassador and his wife, Belinda.
In the afternoon they had a meeting with the Head of the Montevideo Police Department, Mario Layera, followed by a visit to the Ministry of Foreign Affairs where they met the Secretary General Gonzalo Koncke.
Finally, the teenagers returned to the Embassy where the Ambassador gave them a diploma and some presents, testimony of an experience that will hopefully last in their minds for a long time.
Document information
Published: 24 June 2013
Updated: 24 June 2013
Added translation
Correct translation
Added translation
First published.