World news story
Ambassador Patrick Mullee visited Riobamba, Ambato and Baños
The Ambassador held meetings with high authorities such and the Mayor of Riobamba Napoleon Cadena and bussiness contacts.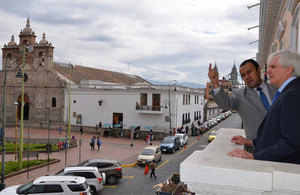 The Ambassador Mullee and the Mayor Cadena had a meeting and visited the historic part of Riobamba. In Ambato, the Ambassador Mullee had important meetings with the Chamber of Industries and Commerce and other meetings with important contacts of commerce. In Baños, the Ambassador visited the Monitoring and Risk Center and other important places.
Do you want to know more about the Ambassador´s daily activities? Follow him on Twitter @PatrickMulle
Get the latest news in our Twitter or Facebook accounts.
Published 6 August 2014