News story
Ambassador Millett speaks at the MediaME Forum
The British Ambassador, Mr. Peter Millett attended the MediaME Forum yesterday, 19 March. Ambassador Millett spoke about "Tradition vs. Progress: The new age of Twiplomacy"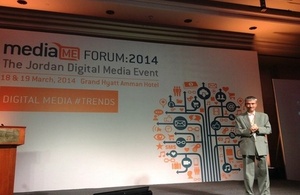 The British Ambassador, Mr Peter Millett attended the MediaME Forum yesterday, 19 March. The MediaME Forum examines which digital powers are driving the future of media, what it takes to make an impact and how to ensure strong impact for these fast-growing industries. Bringing together stakeholders from traditional and digital broadcast media owners, content creators, advertisers, media buyers, manufactures, regulators and related industry, the forum explores which new digital powers are driving the future of the industry. The two-day event addresses every aspect of business in the digital space—from mobile technology to social media marketing strategies to e-commerce. Featuring actionable information, interactive discussions, and opportunities for attendees to network with industry peers, the event provides the knowledge and tools required to compete in today's tech-driven marketing landscape.
The Ambassador spoke about the age of 'Twiplomacy', looking at how traditional notions of diplomacy have changed in the new era of social media. This has required governments to change how they communicate with their citizens both at home and abroad. Communication is now fast and immediate, reaches more people and allows them to voice their opinions and views. For example, applications for Visas to the UK and for British passports can now only be made on-line.
He explained the pros and cons of tweeting and using Facebook. It had made it easier and faster for him to listen and understand a country by following the latest reports and debates. It also allowed him to reach people quickly, inform them about the UK's on current issues, but also highlight new developments form British companies or on education and tourism in the UK.
But there were also risks: getting a word wrong could damage relations. It was important to avoid sounding like a voice piece for official propaganda. Above all, it was important not to be boring.
The Ambassador offered a number of tips to the audience based on his positive experiences as a regular user of Twitter and writer of a fortnightly blog. This included the need to be authentic and to reveal some of your own personality, using humour when appropriate. Including pictures helped to illustrate what is being said and done. It was also necessary to interact and engage with people. This might involve an argument or even hostility but should be expected sometimes; it shows that people were listening.
The main message in the speech was that all organisations have to change to survive. Twiplomacy does not replace traditional diplomacy but it makes it relevant to the 21st century. As for any profession, diplomats have to adapt and use all available means to work more effectively.
We have to recognise and embrace the fact that change is inevitable. As Henry Ford said: "if you think you're finished with change: you're finished."
Published 20 March 2014