Ambassador Mark Kent travels to the UK with Argentine legislators
The programme organised for three national senators and three national deputies includes meetings in London and Scotland.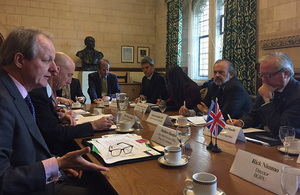 The British Ambassador to Argentina, Mark Kent, will be accompanying the delegation of Argentine legislators who are visiting the UK at the invitation of the British Group of the Inter-Parliamentary Union (BGIPU). As part of the activity programme, the delegation will have the opportunity to visit the UK Parliament, meet MPs and UK Government officials and visit different Government organisations as well as private and academic institutions while in London as well as during the visits to the Scottish cities of Edinburgh and Glasgow.
The official delegation is made up of three senators - Federico Pinedo, Lucila Crexell and Rodolfo Urtubey, and three deputies - Margarita Stolbizer, Eduardo Amadeo and Alejandro Grandinetti. The Argentine Ambassador to the UK, Carlos Sersale di Cerisano, and other Argentine officials, will also take part.
There is a long history of inter-parliamentary dialogue between our countries which seeks to enhance mutual understanding. This kind of activities contributes to the efforts the Argentine and British Governments have been making to strengthen bilateral relations,
said Ambassador Kent, adding that the visit by Argentine legislators would enable them to find new areas of interest for joint work.
During the scheduled meetings, the delegation will have the opportunity to discuss a wide range of topics including international trade, investment, multilateral affairs, culture and tourism. They will also visit an industrial plant and the University of Edinburgh.
Published 30 January 2017