World news story
Ambassador Laing announces Paddington Africa Premiere screening
The Paddington Film Africa Premiere is to be screened in Harare on 18 December 2014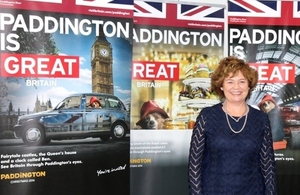 Ambassador Catriona Laing is set to host the African Premiere of the film Paddington in Harare on the 18th of December. The event will be a celebration of the best of what the British film industry has to offer to the world.
VisitBritain has partnered with STUDIOCANAL to promote Britain as a GREAT destination to visit with the release of Paddington. The new film is about the adventures of the famous bear who arrives at Paddington Station from Peru.
Ambassador Laing said:
I am delighted to host the African Premiere of the film Paddington in Harare this festive season. Zimbabwe and the United Kingdom have a long shared history, with strong ties, characterised by a common language and culture that includes adored childhood characters like Paddington Bear. The British Film Industry plays a key role in United Kingdom's economy with 10% of tourism to the UK being attributed to UK films that have gone global.
UK's Culture Secretary said:
Paddington Bear is one of Britain's most loved characters in children's literature and his travel adventures are renowned across the world. This partnership between VisitBritain and STUDIOCANAL will capitalise on the global appeal of this endearing bear by featuring Paddington visiting famous British landmarks and shows the UK has more than marmalade under its hat.
Paddington was first created in 1958 in the books written by Michael Bond. His books have sold over 35 million copies, with 70 different titles in 40 different languages.
The new Paddington film is STUDIOCANAL's biggest release for 2014 and was released on the 28th of November in the UK.
Notes to Editors
Paddington was voted Britain's favourite animated character (British Animated Awards 2012) Paddington featured on 23 million jars of Robertson Marmalade in the UK BBC and HBO TV series ran for nearly 20 years across multiple markets 25 million Paddington plush toys sold 130 licensees – making over 1,000 products around the world, including a Paddington theme park in Japan
Advance Tickets
Advance tickets are now available from Ster Kinekor at Sam Levy Village.
For More Information
For more information on the Paddington Africa Premier follow @UKinZimbabwe for exciting competitions and giveaways.
Published 10 December 2014