World news story
Ambassador Jill Gallard pays official visit to the Azores
This was published under the 2010 to 2015 Conservative and Liberal Democrat coalition government
The Ambassador held talks with the President of the Regional Government and the leader of the Regional Parliament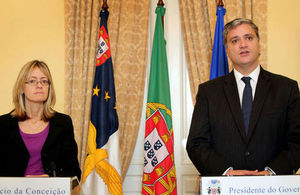 The British Ambassador to Portugal, Mrs Jill Gallard, paid a two day official visit to the Azores archipelago on 7-8 January - one of Portugal's island regions located in the North Atlantic. This has been an opportunity to learn more about Azores's economic challenges, and to establish closer links with regional authorities, business organisations and local British residents, as part of our effort to provide good quality consular services to British nationals, and to look for opportunities for British businesses.
Ambassador Gallard visited the islands of São Miguel and Faial and held talks with President of the Regional Government, Vasco Cordeiro, the Representative of the central Portuguese authorities in the Azores, Pedro Catarino, and the leader of the Regional Parliament, Ana Luis. She attended a lunch with the President of the Ponta Delgada Chamber of Commerce and Industry, and the President of the Azores Tourism Association. The Head of the Azores Government highlighted the importance of UK in terms of visitors to the region (British tourists had increased significantly over the past year), while expressing his determination to continue efforts to promote the Azores as a tourism destination in the UK.
The Ambassador's visit programme included a reception in Ponta Delgada for local contacts attended by members of the regional authorities (airports and ports, immigration and police, business and British community), members of the local British community and Honorary Consuls in the Azores. In her speech, the Ambassador highlighted the main work of the British Embassy in Lisbon, in particular the economic, commercial, consular and security challenges ahead in 2014. She said that commercial diplomacy was a major area of work, and that the UK Trade & Investment team had beaten their targets over the last few years, despite the difficult economic climate in both Portugal and the UK. She stressed the links between the UK and Portugal on the historical, geographical, multilateral, political and policy agenda, and thanked those present for their close collaboration with the UK, whether through our Honorary Consul in Ponta Delgada, or through their own direct business links.
The British community in the Azores is relatively small, mostly concentrated in São Miguel and Faial, but has shown a tendency to rise over the last few years. Jill Gallard was accompanied throughout the visit by the British Honorary Consul for the Azores, António Castro Freire.
Document information
Published: 10 January 2014