World news story
Ambassador Ian Duddy hosted Human Rights Conference
Over 30 people who work internationally defending Human Rights gathered at the British Residence in Montevideo on 16-17 February.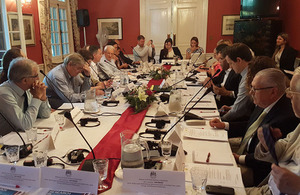 Universal Rights Group (URG), Amnesty International (AI) and the Jacob Blaustein Institute for Human Rights (JBI) organised the event with the aim of evaluating the impact of UN Mandates in Latin America during the 1970s-1990s.
Ambassador Ian Duddy said that "the objective was to examine best practice and see how the Latin American experience could be applied to other regions currently facing serious human rights challenges."
The meeting convened key stakeholders involved in setting up UN Special Procedures mandates on Chile, Guatemala and El Salvador, as well as the Working Group on Enforced and Involuntary Disappearances in Argentina, to share their unique experiences and personal insights on the impact and effectiveness of those mandates.
Delegates from the Uruguayan Ministry of Foreign Affairs and from other Foreign Ministries in the region attended the conference along with members from various Human Rights NGOs and institutions based in Geneva and other countries in Latin America.
The testimonies, reflections and concrete recommendations emanating from this consultation will be published, along with further research and analysis, in a joint policy brief by URG, AI and JBI, to be launched and widely shared among delegates of the international community in Geneva, and beyond.
During the conference, a photographic exhibition showed the work of the mandate holders, and those working with them during the 1970s-1990s. This exhibit will be replicated in Geneva during the 34th session of the Human Rights Council (March 2017), and in New York during the Third Committee of the General Assembly (October 2017).
Published 9 March 2017