World news story
Ambassador Ferguson urges for implementation of the Reform Agenda
Ambassador Ferguson urges political leaders in Bosnia and Herzegovina to implement the Reform Agenda and act in the best interest of citizens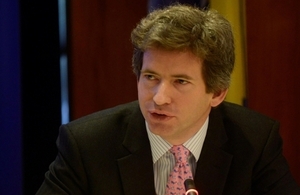 British Ambassador to Bosnia and Herzegovina, Edward Ferguson, said:
The adoption of the Reform Agenda by Bosnia and Herzegovina governments is an important step forward which will help to stabilise the economy and create new opportunities, particularly for young people. It will also advance Bosnia and Herzegovina on its chosen path towards membership of the EU. These reforms are aimed at addressing the legitimate concerns of citizens of Bosnia and Herzegovina and particularly their demands for jobs.

It's now time for the authorities in Bosnia and Herzegovina to fully implement the Reform Agenda without delay. This will not be easy. Some of these reforms will be challenging, but tough times call for tough measures, and we in the UK know that well.

The next important step is the adoption of the Labour Law, which is fully consistent with the recommendations of the Compact for Jobs and Growth, and was foreseen in the Written Commitment. We understand that some are concerned about labour reform, but there are good reasons to be optimistic since the new Labour Law will provide many new job opportunities and provide better rights for those workers who are currently not protected. I urge political leaders to act in the best interest of citizens of Bosnia and Herzegovina.

It's time to make the first step on the path to a new and brighter future for Bosnia and Herzegovina as a modern and vibrant economy that offers real opportunities for its citizens.
Published 29 July 2015