World news story
Ambassador Davenport receives "The Men of the Year Award: Friend of Serbia"
Ambassador Michael Davenport is a recipient of this year's "The Men of the Year" award in the Friend of Serbia category, given out by The Men magazine.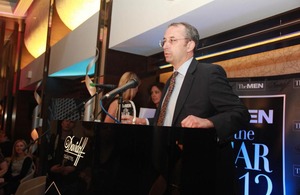 The award is presented to individuals whose work and energy helped make 2012 a year of good and significant events.
The ambassador said: "I am honoured to be among people who truly made a positive impact in this society, and who have numerous results in their fields of professional engagement". He added that "Friend of Serbia" recognition means a lot to him.
The other recipients of this year's Men of the Year award are Serbia's Deputy Prime Minister Aleksandar Vucic, Head of the EU Delegation to Serbia Vincent Degert in the category Perseverance, while European Commissioner Stefan Fuele was awarded in the Without Borders category.
Published 25 April 2013