World news story
Ambassador Cliff launches Embassy Support to Youth Agribusiness Project
Enhancing Youth Employability through Vocational Education and Training of Students in Kosovo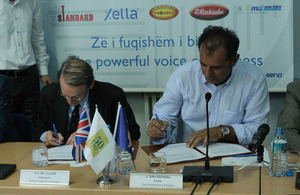 On Wednesday 31st July 2013, the British Ambassador to Kosovo, Ian Cliff, and the President of Kosovo Chamber of Commerce, Safet Gerxhaliu, signed an agreement for the project "Enhancing Youth Employability through Vocational Education and Training of Students in Kosovo". The Minister for Agriculture Forestry and Rural Development, Blerand Stavileci, and Deputy Minister for Education, Science and Technology, Nehat Mustafa were also present at the launch. The joint project aims to reduce youth unemployment through establishing or strengthening the links between private sector and Agribusiness Schools in three regions of Kosovo.
Ambassador Cliff said: "Agriculture in Kosovo is not seen as 'cool' thing to do, which is the opposite in my country. In Britain it is very popular; lots of young people study agriculture or agribusiness and it is even a focus of the Royal family, who are engaged in many aspects of agriculture and the production of natural foods."
Minister Stavilevci commented that "the triangle for success is: youth as an asset, education as a developmental and institutional tool and employment in agriculture as an opportunity"; this project can link these angles.
Deputy Minister Mustafa confirmed that his Ministry is fully behind the project as it fits with one of the Government of Kosovo's key priority of supporting education.
Finally, President of the Kosovo Chamber of Commerce Gerxhaliu explained that Kosovo needs to strengthen "four E's: its path to Europe, Education, Economy and Environment". This project tackles all these. Mr Gerxhaliu thanked the UK Government for its support.
Published 1 August 2013